THREE OTHER WOMEN MISSING
DID LACI'S HUSBAND KILL BEFORE?
WAS LACI HER HUSBAND'S ONLY VICTIM?
Globe, May 13, 2003

Sources say that police are eyeing Scott Peterson in connection with the disappearances of Krisitin Smart, Kristen Modafferi and Evelyn Hernandez and her son Alex. Like Laci, Evelyn's body was found in San Francisco Bay.

Scott Peterson has shown such a lack of emotion over the murders of his wife and unborn son that some investigators believe he may be a psychopath with ice blood in his veins and they're asking if he's killed before, say sources.

The double murder of Laci and baby Connor is so shocking that her friends and family now wonder if she really was his first victim or his FINAL one.

And the mother of Kristin Smart, a student who vanished while at college with Peterson, tells Globe, "I want Scott thoroughly investigated by police for any connection with my daughter's disappearance."

A source on Laci's case says, "This man is so cold blooded that nobody working on the case against him would be suprised if he's hunted down other women. It's unusual for a man to suddenly turn into a cold blooded killer at age 30. Has Scott Peterson killed other women? That's what everybody is asking."

And fomer FBI special agent in charge Ted Gunderson tells GLOBE, "Psychopaths don't think like normal human beings. They're so emotionally cold, they can take and pass a polygraph to fool you.

"Anyone who can do what Scott is charged with has the personality type to have killed before. We know that he has traveled to numerous cities in California. Police departments are no doubt sharing information about unsolved homicides where there could be a Peterson link."

The handsome fertilizer salesman has been discussed as having a possible connection to the disappearance of women in these three unsolved cases;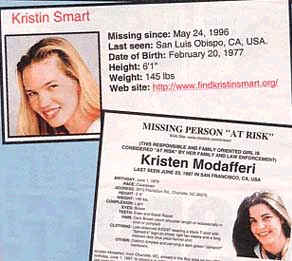 1. Kristin Smart a 19 year old college student who went missing form Cal Poly Univ. Peterson was going to school there about the same time and that's where he met Laci. A local newspaper the Telegraph and Tribune in San Luis Obispo, received an anonymous letter claiming that Kristin's body had been dumped in nearby Lopez Lake, Kristin has never been found. Her mother Denise, 55, tells GLOBE, "The FBI wanted to interview Scott at the time but he never came forward for questioning. He's in jail right now, so there's no reason why police can't speak with him about it." "I need to know why he was on that list and what connection he had with my daughter. I've also been contacted by someone saying that Scott used to date my daughter."

2. Evelyn Hernandez and her son Alex. Like Laci, pregnant. Evelyn's body was discovered in San Francisco Bay long after she vanished. Evelyn, 24, and her 5 year old son Alex, who disappeared May1, 2002, was discovered last July 24.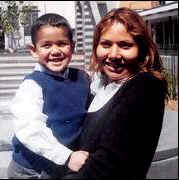 3. Kristen Modafferi. The 18- year old coed from North Carolina was taking a summer photography class at the University of Califorina Berkeley when she vanished June 23rd, 1997. She was last seen in the Lands End area of San Francisco, close to where Laci and Connor washed up. Kristen has never been found.

Laci's parents and the rest of the family are haunted by the fact that Scott may have been hiding a terrible secret, " reveals a source close to the investigation. "He might have killed before and managed to keep his awful past hidden from the rest of the world, including Laci. "They are all horrified to wonder if Scott had blood on his hands from other murders in the area. Laci could have been living with a killer all this time. As far as she knew Scott was a fertilizer salesman with whom she was going to spend the rest of her life.

Peterson's violent demeanor was seen by a neighbor, who spotted him kicking one of Laci's cats after she disappeared. "There is clearly a link between someone who can abuse an animal or child with no remorse and a psychopathic killer," Tampa, Fla, psychologist Dr. Lois Mueller tells Globe. "Often, they have uncontrollable rage and take out their anger on anything weaker than themselves.

"There have been studies showing that serail killers abused hapless animals in their youth. People who abuse animals are not to be trusted and wouldn't have a second thought about killing a pregnant woman."

And signs of Peterson's cold loner side, showed themselves as early as high school, say sources. Ed Ventura, one of the accused killers teamates on the Univ of San Diego High School golf team, remembers, "He was the biggest snob. He was always talking about how good his game was and how much better he was then others. We always wanted him to play on our team, but when it came to wanting to be around him, we would stay away. He was a loner. He was the kind of guy you would walk by and not even notice."

When Laci's body found was found, her mother Sharon called Peterson on his cell phone and asked him to come identify her. "If Scott really cared for Laci and Connor, he would have been on the first plane to San Francisco." Instead his voice was cold and distant. He didn't seem to show any emotion. Scott gave SOME EXCUSE ABOUT HAVING THINGS TO DO IN SAN DIEGO.

Now that Peterson is in custody, experts will grill him to determine what triggers his temper, says former FBI agent Gunderson, "Whether it's greed, resentment at being trapped into fatherhood or hatred of a certain type of woman." "Ted Bundy had a deadly obsession against petite brunettes with their hair parted down the center and he was a classic psychopathic killer who operated for years before getting caught. People who knew Bundy never saw his depraved side. He seemed like a nice guy to them. "Is it possible that Scott has a Jekyll and Hyde personality like Bundy had?