Exclusive document reveals identity of Peterson defense's 'mystery woman'

Updated July 7, 2004
(Court TV) — What do a gold watch, a brown van and an eBay auction have in common?

According to documents obtained by Court TV's Catherine Crier, they resurrect defense attorney Mark Geragos' theory that Satanists in a brown van were involved in the murders of Laci Peterson and her unborn son.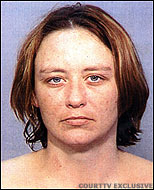 The host of Court TV's "Crier Live" obtained a pawn shop receipt revealing the identity of a "mystery woman" cited by Scott Peterson's lawyer and her possible connection to the owners of a brown van allegedly spotted in the Petersons' neighborhood before her disappearance.

The document indicates that Deanna Renfro pawned a gold Croton watch six days after Laci Peterson's disappearance — a gold watch almost identical to one Laci tried to auction on eBay weeks earlier, according to the records of the Petersons' eBay account.

Laci Peterson, 27, disappeared Dec. 24, 2002. Four days later, a rape crisis counselor told police that an unidentified woman reported she had been raped by two men and two women in a brown van during a satanic ritual.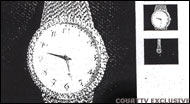 A watch Laci Peterson attempted to sell on eBay



According to the counselor's account, the victim said that, during the ritual, the group mentioned a Christmas day death, one she would read about in the papers.

When police tracked down the van to a nearby campsite on Dec. 30, among the four people in the van were Donny and Mary Renfrow. Court TV sources indicated that Deanna Renfro (despite a different spelling in documents) is related to the Renfrows and may be Donny Renfrow's daughter.

The receipt from the pawn shop indicates that, the day after the police visit to the campsite, Deanna Renfro, who has a long criminal history including at least one methamphetamine arrest, pawned the gold Croton watch for $20.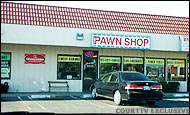 The pawn shop where Deanna Renfo pawned a gold Croton watch for $20.
The bodies of Laci Peterson and her unborn son were found four months later on the shore of San Francisco Bay. Her husband, Scott, faces the death penalty if convicted of both murders.

"Is the pawned watch the same as Laci's? Are the Renfrows related?" Crier said. "Court TV is working to resolve these unanswered questions, but in the meantime, a conspiracy theory is born."