The Albany Bulb -- July 11, 2004
On July 11, 2004, I and two friends made a field trip to the Albany Bulb to try and locate the cistern that Citizen Q said he suspected Laci was buried in.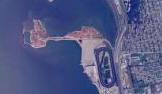 This is an aerial view of the bulb. The stem of the Bulb is quite narrow, and the path on it goes pretty much down the middle, and is a wide path. As you get onto the Bulb portion, the path narrows considerably and gets pretty rough in places. The path also takes 2 directions -- the south path goes to the Castle on the southwest edge of the Bulb. The other path crosses the Bulb to get to the north side and then gain access to the lagoon and the location where Q's cistern was located. We first took the south path to the Castle, then retreated and took the north path. The tide was too high, however, for us to reach the cistern. At the time we made this field trip, we did not know about the cave on the southern side of the Bulb.
After this field trip, I received information about a cave located on the Bulb. The Cave--> marking was already on the picture. The second picture has more items labeled, to help identify the location of this cave along the southern edge of the Bulb stem. Click pictures to enlarge.
The picture originated on this webpage (without any markings on it). I emailed the person who took the picture and asked if he knew the exact location, as I was interested to know if it was a cave. His reply: "It's just a shadow. No caves there."