11 Cleaning Rags/Towels
Collected on: December 24, 2002
Collected by: ID Tech Doug Lovell, under instruction from Detective Al Brocchini
Reason: Suspected clean-up of a crime scene
Media Reports: None
Received by: California Department of Justice crime laboratory, Ripon, CA
Received on: December 30, 2002
Case No: Central Valley 02-01094-41
Request No: 01
Tested by: Pin Kyo, Criminalist Serology & General Examination
Bates No. for Report: Not provided
Results: Negative
Initial Suspicion
The rags (also referred to in the testimonies as white towels, numbering 11 in all) on the washing machine raised the eyebrows of suspicion on the walk-throughs on the 24th, and were collected as evidence the same night by ID Tech Doug Lovell. Mr. Distaso mentioned the rags twice in his Opening Statement, and Letsinger described them as dirty and wet under direct examination.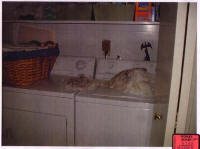 The Testimony
The housekeeper Margarita Nava said that they were the rags she used the day before to clean the outside of the windows and the inside of the fireplace screen, and she routinely put the rags into the mop bucket and then set the bucket on top of the washing machine. Scott told Brocchini that the rags were in the washing machine when he returned home and he removed them so he could wash his fishing clothes.
The Police Reports
According to Catherine Crier, Brocchini interviewed Margarita Nava on Christmas Day, and asked her "about the very dirty towels he had observed atop the Petersons' washing machine. Nava explained that she'd used them to clean the outside of the window frames and the inside of the fireplace screen." Brocchini asked Nava, "Where did you leave the towels?" and she replied, "I left them in a bucket so they could be washed at a later date." Crier continues: "Yet Scott had told the police he'd found the towels inside the washing machine. A seemingly minor discrepancy, but someone took them out of that bucket to fill it with water. Was this at Laci's request, or did Scott have some cleaning of his own to do?" (A Deadly Game, p. 39)
Test Results
Pin Kyo was not even asked about her tests on the rags, but Detective Craig Grogan confirmed that they had no evidentiary value and were not used in any crime clean-up.
Conclusion
The 11 rags/towels were not used by Scott Peterson or anyone else to clean up a crime scene. Nor did the mops and mop bucket have anything to do with a clean-up. Therefore, there was nothing sinister about someone moving them from the bucket to the washing machine so the bucket could be used to mop the floor.