3:00 am Burglars saw Scott
Burglars casing the neighborhood allegedly saw Scott doing something suspicious at 3 a.m. on the 24th. They burglarized the home of Rudy and Susan Medina, taking, among other things, a safe containing $50K in jewelry, and yet left expensive jewelry that was sitting on a counter. The Medinas live across the street from Scott and Laci. Susan Medina reported that the burglary occurred sometime between Christmas Eve morning and late December 26, and she suspected Laci may have seen something that put her in danger, but the burglars told the police they committed the burglary on the 26th. When questioned about the Medina burglary, one of the burglars reported seeing Scott on the 24th. However, a TV anchor in Modesto insists the burglary could not have happened on the 26th because he was parked with his news truck outside the Medina home starting early in the morning, covering the breaking news story about Laci's disappearance. The Medinas also question that the burglary took place on the 26th.
3:30 am Truck driver saw Scott
A truck driver named Dave says he saw Scott Peterson driving on a highway close to the marina area. "He was interested because he was thinking of buying a boat himself. He pulled up alongside, close enough to check the maker's name on the boat - Gamefisher." Dave told a co-worker, Marietta Wallace, that he saw a large bundle wrapped in a blue blanket, like a Mexican-motif-type blanket, in the back of the boat. Wallace reported this information to the police hotline on 9 Jan 2003.
5:00 am Susan Medina saw both vehicles in the drive
Susan Medina testified at the trial that she saw both Laci's Land Rover and Scott's pickup in their driveway.
6:30 am Ron Grantski drove to Lodi
Ron drove to Lodi, 45 miles to the north of Modesto, to pick up his paycheck. He said his boss had given the construction crew he supervises the rest of the week off. From Lodi, he drove the 104 miles to Los Banos to check on a nearly-completed project and wished the crew a Merry Christmas.
6:30-7:00 am James McGritt saw Scott in boat
James McGritt reported seeing Scott Peterson on the water and dragging something along the side of his boat around 6:30 to 7:00 a.m. off of Emeryville, which is south of the Berkeley Marina. McGritt told his story on KTVU on May 16, 2003.
Police Theory: 2 Marina trips
Some media reports indicate the police believed Scott made two trips to the Berkeley Marina on Christmas Eve -- one early morning journey to dispose of Laci's body and another later in the day (his "fishing" trip) to create an alibi. At least 3 theories surfaced to explain how Scott disposed of Laci's body: (1) Scott put Laci's body into a 55-gallon drum with some cement weights, put the lid on, loaded the drum into his pickup, drove to the Berkeley Marina, rolled the drum out of the truck into the water, and watched as the tide carried it out and it sank to the bottom of the Bay; (2) Scott used a half-roll of chicken wire to wrap around Laci; and (3) Scott used wire (perhaps the chicken wire) to tie cement anchors to Laci.
Early that morning Suspicious characters in Dry Creek Park
John and Karma Souza encountered what they considered to be three suspicious persons while running along Dry Creek park. Karma described one of them in the early 20s, medium height and weight, wearing a nylon, puffy jacket, light in color, possibly white, blue jeans, unknown shoes. John saw this same person when he was running at McLure and Dry Creek Park trail. When he addressed the man, he just mumbled. John saw two other men, who popped out of the bushes while he was running. He thought they were very suspicious because he runs a lot in that park and had never seen these individuals before. Both John and Karma reported this to the police after they heard of Laci's disappearance, and they were interviewed by Detective Phil Owen on December 27. The McClure entrance to the park is at the east end, near Claus Rd. It's relationship to Covena is shown on this map--A is 532 Covena and B is McClure at Dry Creek Road. It's 3.6 miles driving distance, but much less walking distance. The dotted blue line is Dry Creek as it runs through the 5 park.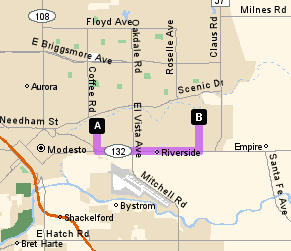 8:00 am Breakfast with Laci
Scott woke up about 8 a. m. Laci was already showered and dressed. They both had a bowl of cereal for breakfast. Scott was in and out of the room as Laci watched Martha Stewart, and he watched a portion with her. Laci asked Scott to bring in the mop bucket and fill it for her. She planned to mop and clean up the kitchen, go shopping for the brunch the next day, and walk MacKenzie. The brunch menu included French toast, and Laci may have intended to shop for Challah bread, called for in many French toast recipes. Scott told Amber in a Jan 8 taped phone conversation that she was going to walk McKenzie, go to the store to get ingredients to make gingerbread cookies for that day and the Cordon Blue French Toast for Christmas brunch the next day, and then they would meet at 4:00 to go to her parent's home for Christmas Eve dinner. (People's 195U, pp 8-9)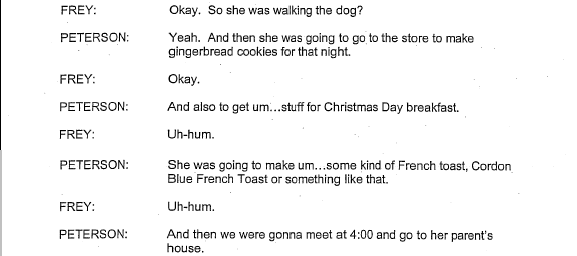 8:40-8:45 am On the Home computer
Detective Lydell Wall testified that at exactly 8:40 a.m. someone used the home laptop to look at a five-day weather forecast for San Jose and a Yahoo shopping site featuring a garden weather vane. At 8:44 a.m., a Gap fleece scarf, priced at $6.99, was viewed, as well as a sunflower motif umbrella stand for $29.99. At 8:45 a.m. Peterson's e-mail account was accessed and an e-mail (regarding a Ping Staff golf bag he had auctioned on eBay) was viewed, but no e-mails were sent. Wall said he was never asked to review web-surfing habits for Scott and Laci to try and determine which of them was using the computer. The sunflower motif umbrella is interesting because Laci had a sunflower tattoo on her ankle.
9:00 am Truck and boat similar to Scott's sighted near Phoenix Lake Road
A woman called the Sonora Police Department and reported seeing a truck and boat matching posted description of Scott's truck and boat near Phoenix Lake Road, headed east on Highway 108, about 9:00 a.m. on December 24, 2002.
9:00-10:00 am Martha Stewart Living
Martha Stewart Living show airs. Scott told Brocchini that Laci was watching the show, but he only caught portions of it. He said she had on something about meringue.
PETERSON: Eats right when she wakes up, otherwise she gets sick, 'cause she's pregnant. Ah, I laid around in bed longer, I got up at I don't know, 8 o'clock probably or so. Ah, showered ah we were watchin' her favorite show, Martha STEWART. Watched a little bit of that.

BROCCHINI: You didn't watch the whole thing though?

PETERSON: No.

BROCCHINI: You remember what part you saw?

PETERSON: I don't know, I don't know what they had on, some cooking deal, I don't know, cookies of some sort, they were talking about what to do with meringue.
Brocchini ordered the Stewart tapes for Dec. 23 and 24 and watched them. Distaso said in his Opening Statement that meringue was a segment on the 23rd, at 9:40, but no meringue on the 24th. However, in his Opening Statement, Geragos played a segment of the Dec. 24 show, and Martha and another woman were talking about meringue. Geragos said in his Opening Statement that Brocchini's sworn statement that Scott lied about Martha Stewart having a segment about meringue was used to get permission to use the GPS systems on Scott's vehicles and to tap his phones. The meringue mention on the 24th was at 9:48 am.
9:20-9:40 am Kristen Dempewolf saw Scott at home
In early January Kristen Dempewolf called in to the police tip line and said that she was walking through the park between 9:00 and 9:30 on the morning of December 24 and she did not see Laci there. She also said that as she was walking down Covena between 9:20 and 9:40, she saw Scott standing in the bed of his pickup truck. She typically heard a dog barking when she passed that house, but there was no barking that day. She saw an older white utility van parked across the street from the Peterson's. She also said she saw Scott loading something into the back of his pickup truck, but does not remember what it was. Scott said he wrapped two patio umbrellas in a blue tarp to take to the warehouse for the winter months. Scott still had the umbrellas in his pickup late that night when he was interviewed by Detective Brocchini. Scott told Brocchini that he forgot to take them out at the warehouse.
9:30-9:35 am Scott went to the warehouse office
This is the time Scott told officers that he left to go to work. When Scott left the house, Laci was wearing black pants, a white, long-sleeved pullover type blouse with no buttons, and she was barefoot. She was also wearing a diamond ring, diamond earrings, a diamond necklace, and a croton watch. She had started mopping the floor in front of the French doors that opened to the back-yard. At the warehouse office, Scott checked his e-mail and sent an e-mail. He worked on building a mortising woodworking machine. Scott said he decided to fish instead of golf because the weather was too cold for golf. He made no stops or purchases on the way to the Marina. Scott was wearing blue jeans, a blue t-shirt, and a long-sleeved green pullover. This fishing trip was the first time Scott had the new boat in the water.
Distaso said in his Opening Statement that the diamond ring was actually at the jewelers that day, the diamond earrings were never found, and the diamond necklace was found in the house that night. On Dec. 25, Scott told Grogan that Laci wasn't wearing the diamond ring on the 24th, but rather a blue sapphire ring. That ring was also found among Laci's jewelry on the night of the 24th. Grogan testified that the diamond screw-back earrings and the croton watch Scott said Laci was wearing have never been found.
9:15-9:45 am Connie Fleeman saw Scott
Connie Fleeman said she bumped into Peterson between 9:15 and 9:45 a.m. at the Crescent Food Market on Coffee Road near Floyd Avenue in north Modesto. She said a boat in the parking lot made her think of her son, who is an avid fisherman. She took a look, she said, and did not see any fishing gear in the boat. Fleeman says she saw Scott again at a stop light, as she attempted to tell him that that the box in the truck bed was slightly open. She said he gave her a "horrifying, scary look." She described Scott as wearing a clean white shirt, the kind that a golfer might wear, and twill pants. Fleeman says she saw the same truck and boat at Crescent Food the next morning, Christmas Day, as she went to the store. She called this information in to the tip line, but she was not taken seriously because MPD knew where Scott was on Dec. 25.
9:39 am Kristen Reed saw Scott's pickup truck in the drive
Kristin Reed saw Scott's truck in the driveway about 9:39 am. She was going to stop and say hello if she saw either Scott or Laci in the yard. Her husband's grandmother had lived in the house just north of the Peterson's before her death. He was caretaker for the house. Greg and Kristin lived on Edgebrook Drive, which is a non-continuous street. It merges with Highland Drive at the Covena intersection, and then picks up again about 4-5 blocks east of Covena. The only way to get to the grandmother's (and Scott and Laci's) house from their house would be to get on Encina, which is the first street to the south of 523 Covena. At the intersection of Encina and Covena, a driver has a very clear view of the Peterson home, and the Krigbaum and Medina homes across the street.
Around Thanksgiving time, Laci told Kristin she quit walking because she began having fainting spells. At the beginning of December, Laci told Kristin she had started walking again because she was getting heavy.
Brocchini testified that on Sep 12, 03 he interviewed Kristin Reed about the van she thought she saw across the street from 523 Covena the morning of Dec. 24. Kristin told Brocchini that Laci told her she had stopped walking because of some fainting spells, but because she had gained so much weight in her pregnancy she was going to start walking again. Brocchini asked if she was still going to the park, and Kristin she did not remember specifically, but Laci always took McKenzie with her as a safety feature. Laci always kept McKenzie on the leash because she could not control him like Scott could. When asked by Distaso, Brocchini said he did not believe Laci went walking on Dec 24 in the park and Kristin's information contradicted what he believed happened.
9:45-10:00 am Homer & Helen Maldonado saw Laci
4 very credible witnesses were sure they saw Laci and McKenzie in the same area on the morning of December 24 around 10 a.m.-- Homer Maldonado, Tony Freitas, Martha Aguilar, and Gene Pedrioli. These sightings suggest a route for Laci on that morning: leaving home, going south on Covena, west on Miller to La Loma and then northwest along La Loma. It doesn't seem likely that four people independently were imagining this. These sightings support the theory that Laci left home around 10 a.m. and headed south, not north to the park.
Maldonado, Freitas, Aguilar and Pedrioli called the MPD tipline to report that they had seen Laci on the morning of the 24th. None of their calls were returned by MPD. The initial investigation of these tips was done by defense investigators, not by the Modesto police. Not until the trial were investigators sent by the District Attorney to interview Maldonado and Freitas. Aguilar and Pedrioli were never interviewed by police or by prosecutors.
Homer Maldonado and his wife had stopped to buy gas at the USA station on the corner of Miller Avenue and Camellia Way between 9:45 and 10:00 a.m. on December 24. After leaving the gas station they drove west on Miller. At the corner of Covena and Miller, Maldonado saw Laci and McK in front of the second house from the corner on the west side of the street (211 Covena). He described her as very pregnant and having trouble controlling the dog. When he checked his rearview mirror, he saw that Laci did not cross Miller but evidently turned the corner and continued walking west on the north side of Miller. Maldonado reported this to the MPD tipline on January 1, 2003. When he was not contacted by the Modesto Police, he went to the Command Post at the Park where he reported his sighting and spoke to the chaplain. He was never interviewed by the Modesto Police. In July 2004, during the trial, he was interviewed by an investigator from the DAís office.

Around 10 a.m. on the morning of December 24, Tony Freitas was driving his regular delivery route northwest on La Loma Avenue when he saw Laci and McK near the intersection where there is a small, grassy triangular park, located on La Loma between Santa Barbara and N. Santa Ana. Freitas reported this to the MPD tipline on December 30, 2002. The woman who took his call said he would be contacted by a detective. Freitas was never contacted by anyone from the Modesto Police Department. On July 29, 2004, during the trial, he was interviewed by a DA Investigator.

Around 10 a.m. on the morning of December 24, Martha Aguilar saw Laci and McK walking on La Loma Avenue in the same general area that Freitas saw her. She was sure it was Laci. Aguilar lived 2 blocks south of Laci on Covena and they went to the same doctor. Aguilarís call to the MPD tipline was never returned. She was never interviewed by anyone from MPD or from the DAís office.

Gene Pedrioli saw Laci and McK around 10 a.m. on the morning of December 24 around the time he picked up a prescription at a pharmacy. He saw them on La Loma Avenue in the same area where they had been seen by Aguilar. He noticed McK because he has a dog the same color. He said that the woman and the dog had to walk around some branches that were on the sidewalk. Pedrioli made 2 calls to the MPD tip line. He was told that he would have to prove his whereabouts. He thought the police were not interested in his tip. He was never contacted by them or by the DAís office.

9:45 am Campos heard men shouting at woman
A Stanislaus County Hospital employee, Diana Campos, was taking a smoke break. The hospital is located close enough to the park to give a direct sight line into the park. In her initial call to the police, Campos said she took the break at 10:45 a.m. However, in the Preliminary hearing, Geragos said Campos said the time was 9:45 a.m., after checking her records. Campos saw three people walking together along the jogging trail, in a direction away from the Covena address. One was an obviously pregnant white woman with a dog on a leash, and she identified the dog as a medium-size Golden Retriever. The dog was barking constantly, and the woman had to pull at the dog with the leash. The other two were men. One, wearing a beanie cap, told the woman, "Shut the ****** dog up." Campos watched them for about 5 minutes, but didn't think too much of it until she saw the flyer on the 26th and she recognized Laci as the woman she saw. She described the woman as having short, dark, straight shoulder-length hair and about 6-7 months pregnant. She was wearing a white top and what appeared to be stretch pants, but she didn't know what color. One of the males was in his late thirties, 5'7", medium build, wearing a dark beanie, dirty dark shirt, and dirty blue jeans. The second man was also late thirties, 5'7", medium build, short brown hair, wearing a Levi jacket with a tear and blue jeans.
9:45-10:30 am Another pregnant woman walking her dog
Kristen Dempewolf, age 33, with shoulder-length brown hair and a mid-sized brown dog, which is not a golden retriever, may have been walking her dog that morning, and may be the pregnant woman the witnesses saw. Police investigators conducted a "cognitive interview where hypnosis techniques were used" on Kristen because she couldn't remember for sure having walked her dog that day. The hypnosis was intended to help her remember "exactly when and where she walked her dog on Christmas Eve." The police were satisfied that these eye-witnesses saw either Kristen or another pregnant woman on Christmas Eve morning, not Laci. Another neighbor, Tammy Thomas, believes it's unlikely a witness could mistake Kristen for Laci, and she claims Kristin is a blonde, not a brunette like Laci; Kristen's dog looks nothing like McKenzie; and Kristen always takes her 2-year old daughter with her when she walks her dog.
10:00am Neighbors saw Laci
Neighbors told police they saw Laci -- dressed in a white shirt and black pants -- walking her dog in the park around 10 a. m.
10:08 am Scott's called his cell phone voice mail
Scott made a call on his cell phone at 10:08 that was transmitted by the cell tower at 1250 Brighton Avenue, which services the area of 523 Covena (Scott and Laci's home). The call lasted 1 minute 21 seconds, and was a call to its own voicemail. While the call was in process, the transmission was switched to the cell tower at Tenth and D, at the water tower near downtown Modesto. A police officer later timed a drive from the Covena home to the border of the Brighton tower radius, and it took exactly 1 minutes 21 seconds.
10:00-10:30 am Vivian Mitchell saw Laci
Vivian Mitchell, who lives on Buena Vista Avenue roughly 10 blocks from the Peterson home and about three-quarters of a mile from the Maldonado sighting, told police that she saw Peterson walk by between 10 and 10:30 a.m. Dec. 24. Her husband, Bill, also saw Laci and McKenzie.

10:15 am Woman heard screams
A police officer interviewing people along the park's Peggy Mensinger Trail, and elsewhere around the park, reported that he spoke with a woman who said she heard screams about 10:15 a.m. Christmas Eve. She lives on the park's border. Scott told his sister, Anne Bird, that the woman who heard the screams is Kim McGregor's mother, who at the time lived at 1519 Encena (see People's 33 for location).
10:18 am Karen Servas found McKenzie
Karen Servas, a neighbor, was backing out of her driveway and McKenzie was standing in the street in front of her house. She noticed him out of the driver's side window. She pulled her car over to the curb, got out, and walked over to McKenzie. Her car was facing south, as was McKenzie. The park entrance is to the north. She checked his tags to make sure it was McKenzie. She took him by the leash and walked across her lawn towards the Peterson home. She first walked towards the gate that leads to the front door, but it was locked. Then heard something in the backyard, and thought it was Laci. She walked to the driveway, and the side gate was wide open, at least 90 degrees. She walked through the gate and all the way to the end of the pool, which is very near the back fence. She then realized the sound she heard was coming from the neighbor's yard. She walked McKenzie back to the open gate, let go of the leash, told him bye-bye, walked back out the gate. When she shut the gate, McKenzie barked at her once. She did not see anyone in the backyard and she did not notice anyone in the house. About halfway across the lawn, she noticed her hands had some "wet dirt" from the leash, and so she went back to her house to wash her hands. The "wet dirt" seemed to be grass clippings and leaf clippings. At the trial, she described the leash as "very muddy."
Servas determined the 10:18 time she found McKenzie by retracing her steps from the time of a purchase she made at Austin's at 10:34 a.m. and a cell phone call at 10:37 a.m. She arrived home from her errands between 11:45 and 12 Noon. Servas also testified that she had never seen McKenzie running loose with his leash on, and had never seen Laci walking McKenzie alone. She had seen Scott and Laci walking McKenzie together, maybe once or twice. At the trial, Servas testified that she often saw McKenzie running loose without his leash, and she described his leash as "very muddy."
People's 28, Austin's Receipt. Click to enlarge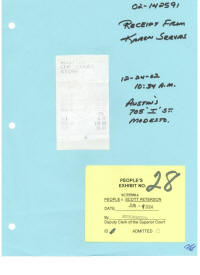 Pool not serviced
Robert Inelio always serviced the Peterson pool on Tuesdays, but he did not on Christmas Eve because he took the whole week off.
10:30-10:56 am Scott logged on to his work computer
According to questions posed by Geragos to Investigator Steven Jacobson at the Preliminary Hearing, information from Scott's hard drive (not actually discussed at the Prelim) indicates Scott used his computer from shortly after 10:08 a.m. until almost 11:00 a.m. Detective Lydell Wall testified at the trial that the precise times were from 10:30-10:56. He used the computer to send holiday email to his boss, and to visit a website for instructions on how to assemble the mortiser he had just purchased on eBay.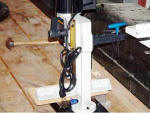 10:33 am The Medinas left for the holidays
The Medinas placed a cell phone call which indicated they were leaving for the holidays. The Medinas live across the street from the Petersons. The Medinas returned on the 26th to find their home had been burglarized. Their dolly was in the front yard, which they believe was used to remove the safe from the house. A leather glove, around a hammer, was on the bed in the master bedroom--both the glove and the hammer were stolen from the shed. A boot print on the white paint on the side door, which is how they knew it was forced entry. Officer Wend took the report. The children's room was ransacked, but the master bedroom was only slightly so. Valuable jewelry left out in the open was not taken.
10:38 am Laci's blinds not opened
According to family and friends, Laci opened her drapes every morning to let in the morning sun. An unidentified family member said "I don't think she made it through that night. If she was alive that morning, she would have opened up her drapes." However, Sharon, Ron, and Amy, on Larry King Live, dismissed the rumor by saying that Laci didn't even have drapes.
Margarita Nava, Laci's housekeeper, testified at the preliminary hearing that just the day before, when she went to the house to clean, Laci was up and dressed but had not opened her drapes/blinds.
Amie Krigbaum, who lives across the street from the Petersons, testified at the preliminary hearing that Laci opened her blinds pretty much on a regular basis. Amie Krigbaum & Tara Venable would open their blinds and look across the street, and Laci's blinds would be open, that is, raised about 12 inches. However, because of her work schedule, Amie was not home on a regular basis to know how set a routine it was for Laci to open her blinds.
10:38 am McKenzie barking aggressively
On the morning of the 24th, Amie Krigbaum was awakened by barking dogs. She recognized one of the dogs, Sage, but not the other. Later, when she heard McKenzie bark, she realized the 2nd dog was McKenzie. She took her own dog out and then noticed that Laci's blinds were not opened. She said the neighborhood seemed "abnormally quiet," no one was around, and she did not see any of the neighbors. She originally told the police the time she woke up was 10:38 a.m. At the trial, she said her partner, Tara, often set the alarm clock 5 minutes early, so the time they awoke was 10:30ish. Amie also said that Sage barked a lot, but that normally does not trigger McKenzie to barking.
These pictures show the windows from both the interior and exterior view.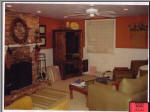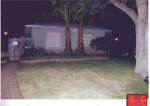 10:35-10:50 am The Postman delivered on Covena
Sometime between 10:35 and 10:50 a.m., the Postman delivered mail to the Petersons's. He did not hear McKenzie bark that day, and observed nothing unusual. He said that if McKenzie is out, he does not deliver mail -- that is the policy with all homeowners who have dogs. He did not recall what he delivered to the Petersons that day, but Servas and Krigbaum both observed a package protruding from the mailbox.
This picture shows the location of the mailbox on the front gate, and also shows one of the two front windows. Click to enlarge.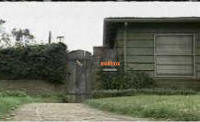 10:45 am Mike Chiavetta saw McKenzie
Mike Chiavetta saw McKenzie, and maybe Laci, in the park in the open area in front of the Olive Grove. Reporting the sighting several months later, he remembers the time to be about 10:45 a.m., but says to refer to his initial report to the police for the actual time. Chiavetta also confirmed other eye-witness reports that the weather was quite nice that day. He said it had been hazy, but the sun broke through just as he finished his run in the park. He also reported that a number of people were in the park that morning. The olive grove is adjacent to the dirt path that leads from the park on to Covena.
11:40 am Mysterious tan van on Covena
Witnesses reported seeing three suspicious-looking people in front of Scott and Laci Peterson's home. Diane Jackson told police she was driving to her home in Modesto's La Loma neighborhood at 11:40 a.m. on Dec. 24 when she saw three men standing near a tan van parked in front of 516 Covena Ave, directly across the street from the Peterson home. One rear van door was open, the other ajar. 516 Covena Ave is the Medina home, which was burglarized. In interviewing Jackson, police displayed pictures of three men suspected of being the trio she spotted in front of the Medina home. The pictures were of men who previously performed yard work for Jackson, and clearly different from the men Jackson saw in front of the Medina home, according to the account. Jackson later underwent hypnosis at the police department to help her remember more details. Police eventually discounted the sightings of the van, saying it belonged to landscapers. However, Jackson says she saw no landscaping equipment with the three men. Jackson said the men were short with dark complexions and appeared Asian or Hispanic, according to a report of her account, whereas the two men who burglarized the Medina home are white. Jackson will likely be a defense witness.
11:44 am Call from Lee Peterson
Scott received a call on his cell phone from his Dad at 11:44 that went into voice mail. Cell towers are not identified for incoming voice mail.
11:45-Noon Karen Servas returned home
Karen Servas returned home from her shopping about 11:45-Noon, and she said at the trial that she saw the package in the Petersons mailbox, but she did not mention that at the Preliminary Hearing because, she said, she wasn't asked. She said the package looked square, like a book box, and was sticking out of the mailbox. Servas did not go over to the Petersons to see if anyone was home.
12:00-2:00 pm Ron Grantski went fishing
Ron testified at the trial that he left home that morning at 6:30 am, drove 45 miles to Lodi to pick up his paycheck and then drove 104 miles to Los Banos to check on a construction site. He was in Los Banos about 11:00-12:00. He called Sharon and discovered she was going to the movies, so he decided to go fishing. He drove to Oakdale and fished along Orange Blossom Road. He said it was a little cold and he caught only one fish. He returned home between 2:30 and 3:30. Detective Brocchini said he never learned of Ron's fishing trip until Ron testified in court on June 8, 2004.
This is a map of Ron's round trip and a detailed map of the Oakdale fishing area. Click to enlarge.
12:30-1:00 Amie Krigbaum and Terra Venable out on errands
Amie and Terra left about 12:30-1:00 to do some errands. The last receipt Amie had was from McHenry's Blockbuster for 3:42. After Blockbuster, they went to Save Mart to pick up one item and then home.
12:54 Fishing at the Berkeley Marina
Scott told Detective Evers that he arrived at the Berkeley Marina about Noon and fished for two hours. He also gave him his Marina launch receipt, which was time stamped for 12:54. Scott launched his boat, drove north for two miles to Brooks Island. He trolled a bit and then it got choppy and started to rain, and so he went back in. He spoke to some people and had trouble backing his trailer down, and some maintenance there got a good laugh at him.
Brocchini said Scott told him he fished for about 90 minutes. Scott said he saw a couple fishermen and they exchanged "did you catch anything" questions. Neither Scott nor the other fishermen caught anything. Scott also saw some maintenance workers who got a good laugh from him trying to back down the trailer.
The wind was unusually calm that day, making the Marina manageable for a boat like Scott's. At this time of day, the Berkeley Marina was experiencing a flood tide, reaching max flood at 12:30 with a tidal current of .22 knots. Ebb tide did not begin until 3:40. A gardener and two Berkeley city employees reported seeing him.
Rene Tomlinson, a friend of Laci's since high school, said it was not unusual for Scott to go fishing alone, and his parents said he fished often from the time he was a child. "The boat was new, so he was anxious to go," said his mother, Jacqueline. "He had an agreeable wife, so he got to do what he wanted." Another relative said Scott had not fished before at the Berkeley Marina, but had wanted to go after reading an article about sturgeon. Scott told Brocchini that he just mainly wanted to get the boat into the water. Distaso said in his Opening Statement that only three launch tickets were issued between 8:57 on the 23rd and the 27th when LE asked for the report. Distaso also said the harbormaster will testify that it did not rain on the 24th at the Marina.
These pictures show the layout of the Berkeley Marina, the boat launch ramp and launch ticket machine, and the layout of the Richmond Inner Harbor with Brooks Island, the jetty where Conner was found, Point Isabel where Laci was found, and the Albany Bulb. Click the two maps to enlarge.
2:12 pm Scott called Laci twice
Scott used his cell phone again at 2:12 p.m. to check his voicemail for the same phone. The call lasted 28 seconds. He then made a 29-second call to the home phone. His third was a 30-second call to Laci's cell phone. All 3 of these calls were transmitted by the cell tower at 2600 Tenth Street in Berkeley CA. He left this message on her cell phone: "Hey, Beautiful. I just left you a message at home. Itís 2:15. Iím leaving Berkeley. I wonít be able to get to Vella Farms to get the basket for Papa. I was hoping you would get this message and go on out there. Iíll see you in a bit, sweetie. Love you. Bye."
Scott called Amber
According to Amber, Scott called her during the day to tell her he was with his parents in Maine and would be heading to Brussels. However, Investigator Steven Jacobson said no calls were exchanged between the two on the 24th.
2:30 pm Amber visited by a neighbor
Amber told LE that she was home with her toddler daughter on the night of the 23rd, slept in on the 24th because she didn't have to work, and had a visitor from a neighbor at 2:30 p.m. She then went to see her mother, and on to a party with Fresno Detective Richard Byrd that night.
2:34 pm Scott called the Reeds
Scott called a good friend, Greg Reed, at 2:34 pm to firm up plans for New Year's Eve. Greg said Scott sounded "chipper and looking forward to getting together" for New Year's Eve. The call lasted 5 minutes and 1 second, and was transmitted via the cell tower at 9500 Stearns Avenue in Oakland CA.
2:40 pm Scott called his Dad
Scott called Lee Peterson at 2:40 and they talked for 3 minutes and 9 seconds. They talked about their respective plans for the day. The call was transmitted via the cell tower located at 20103 Lake Chabot Road in Castro Valley CA. Scott did not tell Lee about his fishing trip. Lee testified at the preliminary hearing that it was not unusual for Scott to keep purchases a secret from him. He named previous purchases, including a motorcycle, a catamaran, and his Ford F150 truck. Scott called his Dad again at 2:45 pm. It was transmitted via the cell tower at 6390 Grassland Drive in Castro Valley CA. This call lasted 2 minutes, 27 seconds.
3:00-3:30 pm Sharon returned home from the movies
Sharon testified at the trial that she returned home from the movies about 3:00-3:30, and thought to call Laci to ask her to bring whipping cream to the dinner that night to go with her chocolate pie. She said Ron made the call, but no one answered so he left a message.
3:44 pm Scott received an incoming voice mail
Scott received an incoming voice mail at 3:44, cell tower not identified.
3:45 pm Vella Farms called Amy
Vella Farms called Amy at 3:45 to see if she had forgotten to pick up the gift basket, as they were closing at 4 p.m. Amy called Scott on both his cell and at the house, but received no answer on either. She did not leave messages. Amy went to Vella Farms to pick up the basket.
3:52 pm Scott called Laci again
On the way home from the Marina, Scott stopped for gas at a Chevron station in Livermore, using his debit card. At 3:52 he made another call to the home phone, and left a second message for Laci. That call was transmitted from the cell tower at 4959 South Front Road in Livermore CA. Scott went straight to the warehouse to unload his boat. While there he checked his e-mail. A fax had come in from New Jersey, received at 11:30 am PST. Scott initially told Detective Brocchini that he read the fax before going fishing. Brocchini did not specify in his testimony what time Scott arrived at the warehouse or how long he was there.
4:00 pm Ron called Laci
Ron Grantski called Laci at 4:00 to tell her to bring whipping cream to the dinner that night. Laci did not answer and he left a message on the answering machine.
4:05 pm Scott's pickup not in the drive
Karen Servas left her home at 4:05 pm and drove past the Peterson home. She said Laci's car was there, but not Scott's pickup. Servas did not return home again until 10:15 p.m. At the Prelim, Karen said the time was 5:05 pm, but then realized she could not have seen the box in the Peterson mailbox because it would have already been dark, so she checked her day planner and MS Outlook and realized her engagement was at 4 pm, not 5 pm. She said she called the investigator within 48 hours of her testimony to report her error, but he did not file a report till more than a month later.
4:30 pm The Christmas lights came on
Amie Krigbaum testified at the preliminary hearing that the Peterson's Christmas tree lights came on about 4:30-ish. Only Laci's car was in the drive. She did not see any interior lights. Krigbaum made a short 20-minute trip to the store, and when she returned, Scott's truck was in the drive, backed in. She confirmed this information in her testimony at the Trial. Brocchini testified that Scott said the Christmas lights were turned on by plugging then into the outlet in the shed--they were not on a timer. Amie also confirmed, under cross, that she estimates it was about 4:45 when she returned home from her last-minute errand and Scott's pickup was in the drive.
4:30-4:45 pm Scott returned home
Scott said he arrived home about 4:30-4:45. He went through the gate into the backyard and saw McKenzie with the leash on running free. He took the leash off and put it on the picnic table. He went into the house through the French doors that lead in from the backyard into a little nook area right off the kitchen--the French doors were unlocked. The cat and McKenzie followed him in, and the cat ran towards the mop bucket of water. He took the bucket outside and dumped it and put the bucket and the mops outside next to the front door.
He went to the washing machine, removed a pile of white towels from inside, took off his clothes and put them in the washer and started the wash cycle. He washed his clothes because they were wet from the Bay and from the rain.
He went into the kitchen, got a box of cold pizza out of the fridge, poured a glass of milk, and ate one piece of pizza and part of another piece. He went to the bathroom and took a shower. He checked messages on the answering machine. He heard the 2 messages he left on the way home and the one from Ron. Scott told Brocchini that he wasn't alarmed when Laci wasn't home because he assumed she was at her mom's. Then, when he heard the message from Ron, he said to himself, 'hey man, heís calling me for whipped cream.'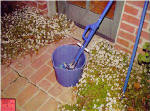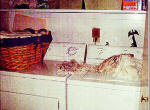 5:17 pm Scott called Sharon
Scott called Sharon Rocha to see if Laci was there, but she was not. He told her Laci's car was in the drive, and McKenzie had his leash on, but Laci "was missing." Sharon told him to call some of her friends. He went across the street and talked to Amie Krigbaum. He left a note on Karen Servasí door. Sharon knew the time because she had just looked at her clock in the kitchen and it was 5:15. She thought she had to get ready for the dinner that night and went into the bedroom. Scott called very soon after that.
5:26 pm Scott called Stacey Boyers
Stacey Boyer's Trial Testimony: "Scott had called me December 24th at, I think it was 5:29, I've got my phone record, and asked me if I had seen Laci or talked to her today. I said no, I hadn't. And he asked me to call a few of the girlfriends and see if they had been with her. And that she was missing. And he got off the phone really abruptly, so I called a few of the girlfriends and called him back." On cross examination, Boyers changed the time to 5:26 p.m. Boyers called Lori Ellsworth and Kim McNeely; neither of them had heard from Laci. When Boyers called Scott back to report, he asked her if anybody drove a white truck. She knew Lori did, but she had already talked to Lori.
5:30 pm Scott looked for Laci at the Krigbaum's
Scott went across the street to the Krigbaums about 5:30 to see if they knew where Laci was. Amie told him he thought they were out of town, because their shades had not been up all day and she had seen no movement there. She also told Scott that she saw the Christmas tree lights come on about 4:30-ish. Krigbaum said Scott was "distraught." She could not reconstruct the exact questions and answers, but Krigbaum said in the course of the conversation and questions, Scott said he had been golfing all day and he had tried to call Laci all day. Amie said that after Scott talked to her, he jumped over the planter in her yard and headed towards the path leading into the park. She said when she again opened her doot, she saw Scott coming out of his house with McKenzie and head towards Karen Servas' house. She also went outside a couple of times to talk to him out on the front lawn, but, she testified, things were "mumble-jumble together, because my adrenalin was going."
5:30 pm Message on Laci's cell phone
From the transcript of Brocchini's interview with Scott later that night, we know that someone called Laci's cell phone and left the message: Laci, everybody's lookin' for you. The caller didn't identify himself, and Scott assumed it was Ron Grantski. Neither Sharon or Ron reported a call to Laci's cell phone as one of the things they did to look for Laci. No testimony was given at trial to indicate who this call was from.
5:32 pm Scott called Sharon again
Scott called Sharon back to report that Laci was not with any of her friends. Sharon told him to check with the neighbors, and that Ron would call around to the hospitals. Scott called back to say she was not with any neighbors. Sharon told Ron to call the police and asked a friend, Sandy Rickard, to drive her to the park so she could begin looking for Laci. Rickard testified at the trial that when she received the call from Sharon she wasn't sure what was going on, but she knew it was important so she went right over to Sharon's. "Sharon greeted me at the door and almost literally fell into my arms in hysterics." Rickard also testified that Sharon told her, "Laci's missing." Rickard said Ron was on the phone talking to police and hospitals.
5:44 pm Scott called several people to search for Laci
From the cell phone records (Brighton cell tower), At 5:44 p.m. Scott called an unidentified number using his cell phone. He then immediately called Amy Rocha. A minute later a call to Sharon, followed by a call to the Reeds--a "frantic" voice message looking for Laci, left on their answering machine. Next call is to Guy Miligi, one of Laci's and Scott's closest friends. Another call to Sharon. Then an incoming call, then another incoming call. This last one was at 5:57. At 5:59 there's another call to Sharon. At 6:03 there are 2 successive incoming calls.
The Modesto Police website stated: "On 12-24-02 at about 5:48 p.m., Modesto Police received a phone call from a man claiming that his pregnant wife had not been seen since 9:30 a.m., Christmas Eve." In the preliminary hearing, Det. Jon Evers said he was the first to respond, at 5:48 p.m., to the missing call report. Evers said, "according to the call, the husband last saw the missing person, Laci Peterson, this morning about 9:30, and she was last seen taking her dog on a walk at the Dry Creek Park area." However, Ron Grantski is the one who called 911 to report Laci missing. Transcript of 911 call including Audio
5:58 pm Sgt. Byron Duerfeldt, MPD, received call on missing woman
Duerfeldt testified that he received the call to respond to East La Loma Park at 5:58 p.m. At the time of the call, he was in the northeast corner of Modesto, about 8-10 miles away from the Park.
6:00 pm Sharon met Scott in the Park
Ron stayed at home to wait for the response to his 911 call, but Sharon called Scott at 6:00 and asked him to meet her in the park, at the parking lot near the tennis courts. A few weeks earlier, Laci told Sharon that she had twice become ill while walking in the park and felt like she was going to pass out. When Sharon saw Scott in the park, he was walking along the river embankment, looking towards the river. Sharon told Greta Van Susteren: "I know the night of the 24th, we had met at the park because I thought that after what Scott had said, that she was supposed to take the dog for a walk, and the dog was in the back yard with his leash on. My first assumption was that possibly she was still in the park someplace. And at that time, I asked him if he noticed whether her purse was at home or not, and he said he didn't know if it was or not."
In her trial testimony, Sharon said that when she got to the park, she saw Scott and ran towards him, yelling his name, but he didn't respond. When she got up to him, she asked, "What's going on," but didn't get a response. She asked, "Well, you know what happened?" Scott: "Laci is missing." Sharon: "Well, where were you today?" Scott: "Fishing." Sharon: "Where were you fishing?" Scott: "Berkeley." Then Scott walked off.
A jogger was in the park vicinity, and Sharon found out that he was a doctor. He had his cell phone and started calling hospitals.
Amie Krigbaum also went to the park to help look for Laci. And, Sandy Rickard called her husband and more people to come to the park and help look.
6:04 pm Police arrived at the Park
Officer Jon Evers arrived at the park first, followed by Officer Derek Letsinger and Officer Matt Spurlock. At 6:04 pm, Evers spoke with Scott, asking him general questions about when Laci was last seen. Scott told him he left Laci about 9:30 that morning, went to the warehouse where he stores his boat, then went fishing, arriving at the Berkeley Marina about noon. He fished for about 2 hours, then quit when it started to rain. He brought the boat back to the warehouse, then went home, arriving about 4:30 pm. McKenzie was in the backyard with his leash on and Laci's car was in the drive. Also, the back French doors were unlocked. Scott told Evers Laci was wearing a white, long-sleeve shirt and black pants as well as a diamond ring, diamond earrings, and a diamond necklace. He also told Evers about the sunflower tattoo and the scar on her torso. Evers used this information to file the missing person's report.
6:10 pm Scott called 911
Investigator Jacobsen testified at the Preliminary Hearing that Scott called 911 to report Laci missing at 6:10 pm, but Evers was already in the park with Scott by that time. Evers probably arrived just as Scott was making the call. All in all, Scott made calls to Amy, Guy Miligi, Sharon, Amy, Greg Reed, Stacey Boyers, Lori Ellsworth, Rene Garza, Brian Ulrich, Rene Tomlinson, Lee Peterson, Greg Reed, and Karen Servas.
6:15-6:30 pm Ron Grantski called the Kemples
Gwen, Sharon's first cousin, and her husband Harvey were hosting a Christmas Eve party of about 15-20 people. Ron asked for all the adults to go to the park and help look for Laci. Harvey Kemple estimated that by 9:00 p.m. as many as 90 people were in the park looking for Laci. Kemple also testified that family searchers encountered about a dozen homeless people in the park that night.
6:15 pm Sgt Duerfeldt advised Communications Center to contact all local hospitals
Duerfeldt arrived at the Park, in the area of the tennis courts, about 6:15 p.m., just as Evers, Letsinger, and Spurlock were leaving the Park to go to 523 Covena. Duerfeldt called the Communications Center and advised them to call all area hospitals to see if a pregnant woman had recently been admitted. He also spoke with Lt. Able, the watch commander, about getting a FLIR helicopter to search the Park. Duerfeldt then went to 523 Covena. Evers, Letsinger, and Spurlock were already in the house doing their walk-through when Duerfeldt arrived.
6:20 pm Police searched the Covena home
Evers, Spurlock and Letsinger decided to go to the Covena home, since that is the last place Laci was seen alive. Scott also returned to the home, but was not allowed in as the three officers secured the home. Scott gave his permission for this search. Letsinger said he and Spurlock first entered the home to see if there any suspicious circumstances that indicated a crime had been committed. Going into the courtyard, he noticed the mops and bucket next to the door, and it looked like water had dripped recently on the stone. When the entered the house, they separated, Letsinger going into the living area. He saw the pizza box on the counter still with some pieces in it, and a rug scrunched accordion style against the doorjamb of the door in the living room. He noticed several dirty, wet rags on the washing machine. The rest of the room almost was like a model home. Everything was in place. The chairs and rugs were all set. The magazines on the coffee table were all laid out. Letsinger said that's what made the rug and the rags stick out. He went into the second bedroom and noticed some duffel bags on the closet shelf and one on the floor, upside down. When Letsinger and Spurlock finished their walk-through, they went and joined Evers and Scott, and then the 4 proceeded to do another walk-through.
Evers said he looked in all the rooms and all the closets, and pulled back the shower curtains in the bathroom. No furniture was overturned and no evidence of the house being ransacked. Laci's purse was hanging in the closet in the master bedroom. Evers noted the bucket with 2 mops on the outside stoop area and Spurlock noted that the concrete the bucket was on was damp or wet.
The officers noted that the rug in front of the family room door that leads to the backyard was pushed all the way against the door. This evidence picture was taken later that night by Lovell.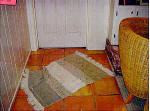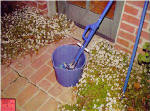 The open phone book
One of the pictures Distaso entered into evidence was of the phone book laying on the kitchen counter. The evidence picture clearly shows that the left side is an inset, made of a heavier paper, that is intended to let the phone book open to that page. The Prosecution has called attention to the phone book, as has the Defense, but neither has asked any witness to identify what the book was opened to. Referring to an archived copy of the Modesto 2002 phone book, I discovered that this is the ad on that inset. Herman told the Modesto Bee that he always takes out this kind of ad, and that Scott Peterson never called him for an appointment.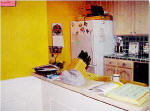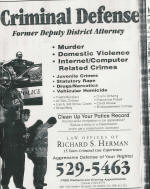 6:20-6:30 pm Duerfeldt called in a homicide Detective
Duerfeldt arrived at the residence about 6:20 pm, just as Evers, Spurlock, and Letsinger were completing their first search of the house. They had a 5-minute conversation with Sergeant Duerfeldt inside the house, near the front door. Duerfeldt had not yet met Scott Peterson and didn't know who he was. Based on this discussion, Duerfeldt called Lt. Able and explained that he wanted a homicide detective to respond. At 6:30 pm, Duerfeldt called Sgt. Carter, who is the supervisor of the crimes against persons unit, and Carter gave him Brocchini's name, as the next homicide detective in rotation. Duerfeldt called Det. Brocchini, who was in the foothills with his family. Duerfeldt also instructed Evers, Spurlock, and Letsinger to search the Reed property to the North, 529 Covena, to be sure that Laci was not there. Sgt. Carter's report said Duerfeldt told him that at 6:30 Scott was out walking the neighborhood looking for Laci, that Scott had called a number of people before calling the police and they were all out looking for Laci. Carter's report also said that Duerfeldt called him back at 7:00 pm. Duerfeldt didn't remember telling Carter any of those things or calling him back.
The 2nd walk-through by police
Evers, Spurlock, and Letsinger did a walk-through with Scott. The officers noted that the rug in front of the family room door that leads to the backyard was pushed all the way against the door. Scott said the dog or cat must have been playing there, and he used his toe to pull it away from the door and straighten it out. This evidence picture was taken later that night by Lovell.
Spurlock asked Scott what type of fish he went fishing for that day, and Scott didn't say, but held up his hands about 7-8 inches apart. Spurlock asked him what kind of bait he used, and Scott said a silver lure. Spurlock asked Scott where he keeps his fishing equipment, and Scott said at the shop (the warehouse). Spurlock testified that when he questioned Scott about the fishing, Scott threw down his flashlight and said the f word. However, none of the officers reported this behavior in their reports, and it didn't appear in any of the discovery given to the Defense team. Scott did give Evers the marina parking receipt, which was subsequently given to Brocchini and booked into evidence.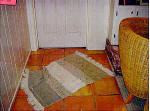 Ron Grantski questioned Scott
Evers said that he and Scott were standing out in front of the Covena home when Ron came up to them and identified himself as Laci's stepfather. Ron asked Scott "if he was able to go golf today or golfing today." Scott replied that it was too cold and he went fishing instead. Ron commented, "You mean going -- going fishing 9:30 or 10:00 in the morning. Boy, that's late to go fishing." Evers said he did not remember Scott replying to Ron. Ron apparently didn't tell any of the officers or detectives he, too, had been fishing that afternoon because Brocchini didn't find out about it until Ron testified at the trial 18 months later. Ron later told police that Scott acted standoffish after this encounter, but admitted to Judge Delucchi that it was understandable someone would take offense.
7:00 pm Harvey Kemple questioned Scott
Harvey Kemple testified that he walked through the park from the tennis courts to Covena, up the trail, and then to the Peterson home, arriving about 7:00. He said the first responding officer was just arriving when got there. His first observation was of Scott talking on his cell phone and Scott didn't respond to his questions. Later, he asked Scott where Laci was going that day, what she was wearing, and where he was. Kemple said Scott described Laci's clothing as white top, black pants, that she planned to walk McKenzie, and that he was golfing. Kemple said he told others what Scott said about golfing, but it apparently didn't come to the attention of the investigators till June, 2003, when he was interviewed by Kevin Bertalotto, investigator for the DA's office. Kemple was only questioned about the burnt chicken incident, and had to volunteer the information about his conversation with Scott on the night of the 24th.
Kemple testified that he was suspicious of Scott that first night because Scott seemed to be trying to keep the police out of his house: "when other people and myself were trying to talk to him, every time an officer made a move towards the house, because there was other people asking questions, he seemed more intent on going over to the house rather than trying to answer anyone's questions . . . He didn't want them going in the house." Kemple admitted that he was not aware that the police searched the house, the vehicles, and the warehouse that same night with Scott's permission.
Kemple also testified that he approached Scott on the night of the 24th and told him there were between 85 and 90 people out looking for Laci. He said Scott had the "doe in the headlights stare," and that he thought Scott was so surprised because Laci's disappearance had gotten more attention than he planned.
Scott's comments to Sandy Rickard
At the trial, Sandy Rickard testified that when she went to the Covena home, Scott went up to her, raised his hands in the air, and said, "I wouldn't be surprised if they find blood on my truck because I cut my hands all the time. I'm a <hunter, I'm a fisherman, sportsman, outdoorsman, one of those terms>." She said she had not said anything, he just went up to her and made the statement. She also said she was standing alone on the front lawn when he came up to her and made the statement. She said that she gave the information to Detective Grogan on January 26, 2003, when she, Sharon, and other women were gathered to remember incriminating incidents against Scott. And Detective Grogan, to whom she gave the information, did not record in his report that she mentioned "truck." To further confuse the matter, Rickard said she had given the information to Grogan earlier than January 26, and Distaso produced a July 9, 2003 report by Grogan indicating Rickard had told him previous to January 26. However, the information wasn't included in any of Grogan's pre-January 26 reports.
7:00-8:00 pm Scott and Brent looked for Laci
Leslie Streeter saw Scott between 7-8 p.m. on the 24th, as Scott and Brent Rocha went door-to-door looking for Laci. "Scott didn't say anything," Streeter recalled. "He just stood there; he looked kind of stressed out." Geragos said in his OS that Scott stopped going from door-to-door because LE wanted him to go with them to the warehouse.
7:54 pm Officers dispatched to the airport to prepare for the helicopter search
Wend was dispatched to the airport at 7:54 p.m. to begin the helicopter search.
8:00 pm Duerfeldt ordered Park cleared for Helicopter Search
About 8 pm, Sgt. Duerfeldt gave the order to clear the park of all humans to prepare for the helicopter search.
8:30-9:45 FLIR Helicopter used to search the Park
The helicopter using FLIR, which detects human presence, made about an hour and 15-20 minute search, but found no signs of human life. They went past Claus Road, where the creek just keeps winding up through some orchards and stuff, and at least a mile past Claus Road, if not even farther. Their instructions were to search the Dry Creek area and the surrounding parks; parks within that Dry Creek area. They weren't directed to search into the neighborhoods--their specific task was to search Dry Creek.
8:48 pm Scott called Karen Servas
Scott called Karen Servas and asked if she knew where Laci was. She said no, and Scott said she was missing and people were searching for her in the park. Servas then told Scott she had found McKenzie, and Scott gave the phone to a detective. Servas wasn't sure what time she told the detective that she found McKenzie, but she did tell Detective Buehler the next day that she found McKenzie at 10:30 that morning. After Servas gave that information she asked to speak to Scott again, and asked him what was going on. He told her that he didn't know, that they were looking for Laci.
9:30 pm Brocchini searched the house
Detective Allen Brocchini, the responding detective, arrived at the Covena home about 9:30 pm (9:55 pm according to Sgt. Duerfeldt). Scott was outside with some family and neighbors. After being briefed by Evers and other police officers at the scene, Brocchini did a 10-minute walk through with Evers, who pointed out things that were suspicious to him. Then, Brocchini did a 45-minute walk-through with both Evers and Scott. Brocchini noted the mop and bucket, but did not smell bleach or other cleaning solutions and observed that the floors were not wet. He noted Laciís purse in the closet, with Laci's wallet, keys, sunglasses, and other items of personal property inside. Laci's cell phone was in the Rover plugged in to the cigarette lighter, but it was not charged and would not stay powered on.
Scott's shoes
Scott told Brocchini that before he left that morning, he removed a pair of white tennis shoes from the duffel bag in the second bedroom and put them on the wet bar. He wore timberline shoes to go fishing. Brocchini said he did not see the white tennis shoes on the wet bar. He thought the wet bar was a cart that had some liquor and glasses on it, and didn't know about the wet bar outside, and did not see the shoes there. Brocchini said the tennis shoes were on the wet bar when they executed the search warrant on Dec 26/27.
Detective Brocchini seized Scott's hand gun
During the walk-through, Brocchini saw Scott's long guns, and asked if he had any hand guns. Scott told him he had owned two, but one was stolen a year or two or three earlier from his vehicle, and he had a second gun that was out in his glove compartment. He told Brocchini that he had used the gun pheasant hunting, but it misfired. Brocchini saw the Llama .22 caliber semi-automatic handgun, with the magazine loaded, in the glove box, wrote down the serial number, and put it into his pocket to take in as evidence without informing Scott. He didn't tell Scott he was taking the gun because he wanted to keep him talking to him, and not get suspicious or defensive. Scott normally kept the gun in a cabinet under his desk, which was in the corner of the 2nd bedroom, the same room where he kept his clothes in the closet. The cabinet had doors on it. It does not show in the evidence picture later that night by ID Tech Lovell.
Brocchini did not book the gun into evidence until Jan 15, '03. When he booked the gun into evidence, Brocchini removed the magazine and put a teflon/plastic tie strap through the bottom of the handle and through the opening on top.
Ronald Welsh, a criminalist with the California DOJ, testified on the results of his examination of the gun, which was given case number CV-02-10941. His initial observation of the gun was that the grips were missing and it had a lot of adhering material, like fibers and dust, just seemed like it was dirty. The gun is a Llama and is .22 Long rifle, which designates the cartridge type that is used not only in rifles but many different types of firearms, including small semi-automatic pistols, such as this one. Semi-automatic means that the firearm uses the energy from the cartridge to not only force the bullet out of the barrel, but also to uses some of that energy to cycle the firearm, which means that it extracts a spent cartridge case and eject it from the gun, and then loads a fresh cartridge, all using the power of the cartridge that was fired. The bullet is the actual projectile that comes out of the gun. A cartridge is composed of a cartridge case, gunpowder, primer, and a bullet. A striking mechanism in the firearm hits the primer, ignites the powder, and the expanding gases from the burning gunpowder push the bullet out. The power of the cartridge forces the top of the gun, which is called the slide, backwards. That extracts and ejects the empty cartridge case and also compresses a spring, and that spring returns the slide forward again, and it picks up a fresh cartridge from the magazine in the process. A magazine is a generic term for any mechanism used by a firearm to hold extra cartridges in the firearm. Scott's gun had 8 cartridges in the magazine when Brocchini seized it, the maximum capacity. This is a single action type of firearm, which means that the hammer has to be cocked, and then the hammer is released by a pull of the trigger; as opposed to a double action firearm where, if the hammer is down, you can pull the trigger and it will both cock and release the hammer.
Welsh test fired the gun with similar ammunition from their reference collection and with 5 cartridges in the magazine. It fired all 5 times, with no function problems. He did a similar test with 4 of the cartridges that were in the magazine when it was booked into evidence, and the gun fired without function problems all 4 times. Welsh also said that if the gun misfired, it would leave an impression on the cartridge, and none of the 8 cartridges in the magazine when he received it had any such impression.
On cross examination, Welsh confirmed that the gun had no blood or tissue on it and had not been recently fired. Two rust stains that appeared to be blood was tested using LMG (Leuko Malachite Green) a chemical test for blood. When Welsh tried to remove the debris from inside the barrel, the first attempt took some force, but the second was easier. He said lead deposits would account for that.
According to Welsh's testimony, the chain of custody was:
AB Jan 15, 03 booked as evidence

Jan 22, received by CA DOJ lab and put into evidence vault

Jan 28, examined by Welsh
Brocchini searched the truck
In the backseat of the truck was a canvas bag with a green camouflage jacket, which was dry, and the Big 5 shopping bag and a receipt for the items he purchased on Dec. 20. In the back of the truck were three patio umbrellas wrapped in a blue tarp, the brown canvas boat cover wadded up, and a green toolbox with some clothes, nylon rope and a bag of shotgun shells. Scott explained that he put the umbrellas in the truck to bring them to the warehouse to store, but then forgot to take them out. The fishing lures in Scott's truck were still in the original bags.
Scott gave permission to ID the house
Brocchini asked Scott if the ID Officer could come to the house while they went to the warehouse, so he could photograph it and "look for evidence." Scott consented. While Scott was standing in the driveway and out of earshot, Brocchini instructed Officer Letsinger to tell Lovell, the ID Officer, to take the bucket and mops into evidence. Brocchini also gave instructions for Lovell to take the towels that were on the washing machine and to use an alternate light source to look for any type of blood or anything and collect it if he found any. Scott was not informed of any of this and was not given receipts.
10:28 pm Amber wrote a letter to Scott
In a letter to Scott, Amber said her friend Richard invited her to dinner at his friend Tom's house. Amber remarked that they are a very nice family. Richard is Richard Byrd, who informed Amber that Scott was married to the missing Laci Peterson late on the night of Dec. 29. Amber also said in the letter that Scott had not called her as he had promised and that she is concerned he is going to meet someone he is attracted to while he is away and be "tempted," and that when he returns she wants to go to Sacramento to meet him on his "grounds" and meet his friends, too. She concludes the letter saying she wants more in her life than him always rushing off and not knowing when she is going to hear from him again and that she doesn't feel included in his life, yet.
10:30 pm Flyers made at Ditto's
Michelle Buer, owner of the Sweet Serenity Day Spa, was called to open Ditto's so flyers could be made. They called Scott to come by to make sure the information was correct, and Brocchini and Scott went there before going to the police station. Under cross examination, Buer was asked a number of questions about what Brocchini and Grogan had written in their reports, that she was suspicious of Scott the first night and quit working in the Volunteer Center because she was uncomfortable around Laci's friends, who were still supporting Scott, and because of Scott's behavior. Buer said the statements in the reports were inaccurate, probably misinterpretations of what she had said. She testified that she had never worked at the volunteer center. Buer was interviewed by Brocchini on Jan 17, and by Grogan on Mar 19. Under redirect, she admitted that she became suspicious of Scott on the 25th, and didn't want to work anymore on Laci's case because of that. Her only involvement was to help Rene Tomlinson get some more flyers printed on the 25th.
11:00 pm Brocchini told the family and friends to go home
Brocchini advised Sharon, Ron, and others that were still at the house to go home. Sharon said she told Scott to come over to her house after he was finished with Brocchini, but, as noted by Geragos in his cross examination of Sharon during the trial, Brocchini said Scott should remain at home in case someone called about Laci.
Sergeant Heller took over responsibility for the Park search.
11:13 pm The Warehouse & boat were searched
Brocchini drove Scott to the warehouse at 1027 North Emerald to do an initial search of both the warehouse and the boat at 11:13. Evers followed in his own police car. Scott gave his permission for this search, also. When they walked into the office area, Brocchini asked Scott about the lights. Scott said there was no electricity. Brocchini did not question Scott further about the electricity. Evers testified that none of the officers attempted to turn the lights on and Scott did not offer to produce lighting. Brocchini used his Streamline flashlight. Brocchini noted the fax on the desk and asked Scott about it. He also noted the mortising machine Scott said he built that day. It appeared to be new, and the screws were loose like it hadn't been completely assembled.
Scott opened the large warehouse rollup door and Brocchini turned on his vehicle headlights and shined them into the warehouse. Brocchini noted that there were stacks of fertilizer products on pallets. The primary purpose for this search was to examine the boat. Brocchini photographed both the warehouse and the boat with a 35mm police camera. Brocchini noted in the boat were: an oar, a gas can, a green canvas bag, a tackle box with some old fishing jigs and lures, a six-foot red rope, a pair of rubber gloves, a homemade anchor, and two fishing poles--an ultra light type and a heavier type. Both the rope and the gloves were wet. The anchor looked like cement made in a bucket, with a rebar hoop cemented into the top. There was loose concrete on the bottom of the boat and the anchor had chippings, like it was bouncing and breaking up in the boat. Distaso said that a fisherman will testify at the trial that this anchor was not sufficient to hold the boat in an anchored position. Brocchini did not notice any pliers in the boat, but says that he did not look closely under the seats or run hands under the seats to see if there was anything there. Specifically, Brocchini said he did not see pliers in the boat on the 24th.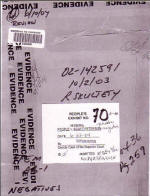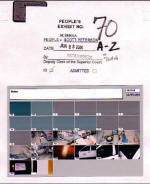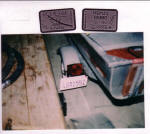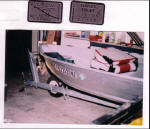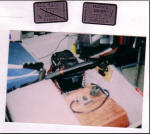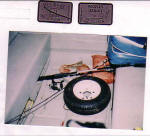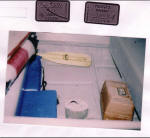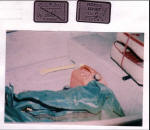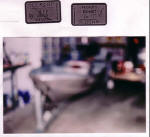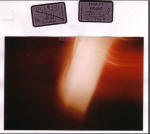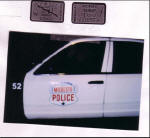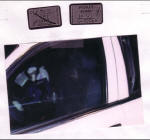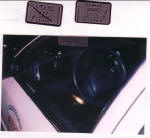 11:35 pm The Covena home photographed by Lovell
ID tech Doug Lovell arrived about 11:35 to photograph the house, taking over 30 pictures (Prelim exhibits 48 through 78). Evers testified at the preliminary hearing that these pictures accurately depict the condition of the home on the night of the 24th. Besides taking photographs, Lovell also used a light source to look around the house. He collected the mops, mop bucket, and white towels that had been in the washer when Scott arrived home and booked them as evidence.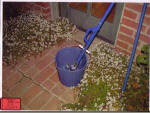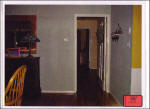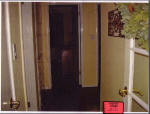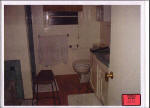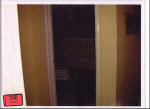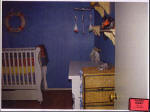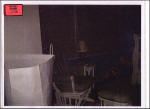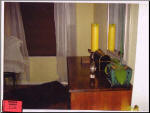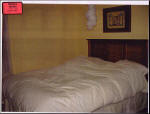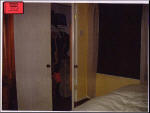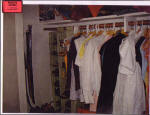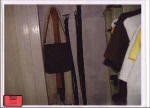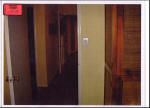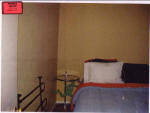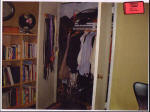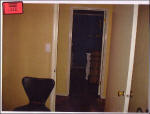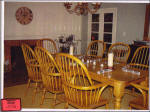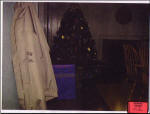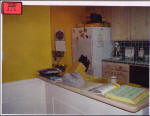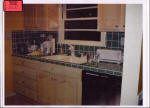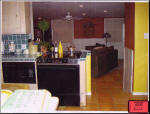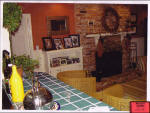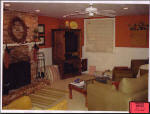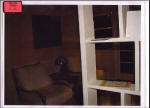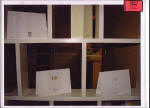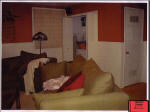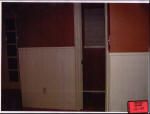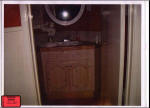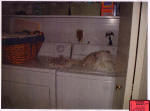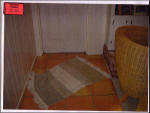 Midnight Scott interviewed at the Police Station
Brocchini asked Scott to go to the station for a thorough statement (click here to read the entire 29-page transcript). On the way to the station, Scott got a cell phone call to go to Dittos because family and friends having fliers made needed some information. They also had to return to the warehouse because Brocchini had laid his notebook in the boat and forgotten it there. Before the interview began, the videotape caught Scott looking at something. Geragos asked Brocchini if they were pictures of Scott and Laci. Brocchini said they didn't look like pictures to him and he never asked Scott what they were. Brocchini told Geragos that he destroyed (on the 26th) the notes he took that evening prior to this taped interview. The hour-long interview was both audio- and videotaped. Brocchini asked Scott if he had fired a gun recently; Scott replied about a month earlier, when he was in Lone Pine pheasant hunting. Brocchini asked Scott if he could swab his hands to do a gunshot residue test. Scott consented, but asked if the exhaust from the outboard motor could register positive. Brocchini told him no. Brocchini booked the swabs into evidence, but the residue tests were never performed.
Brocchini said Scott denied having any kind of affair and never mentioned Amber Frey during his interviews with him over the next several days.
Geragos said in his OS that Scott fully cooperated with the police UNTIL they executed the search warrant on Dec. 26. In his cross examination of Brocchini, Geragos went through the taped interview point by point, and Brocchini never asked Scott if he had a girlfriend, though Brocchini kept insisting that Scott denied on the 24th that he had a girlfriend. Brocchini said that in the 3.5 hours prior to the taped interview, Scott told him several times that he didn't have a girlfriend. He insisted he asked Scott several times that night if he had a girlfriend and Scott denied it. Geragos asked him to produce a report that included that information, but he couldn't. Brocchini said, 'I told Scott it would be uncomfortable for him because I would be asking him difficult questions about his relationship with Laci and he would end up not liking me very much, I didn't write it in there but it is why I was stating that.' Geragos pressed by noting that a single-spaced 12 page report that includes minute details about jackets, mops and buckets, and scrunched rugs contained no reference to Scott denying that he had a girlfriend. Brocchini finally admitted that Scott told him "a lot of truth" on the night of the 24th.