Point Isabel -- May 27, 2006
Purpose: To confirm the exact location of Laci's body and to watch how much of the rock she was found on is covered with water at high tide.
NOAA Richmond does not have verified water levels for this date, but preliminary data indicates a high tide of 5.54 feet above MLLW, a little below the 5.78 on April 14, 2003, the day Laci was found. For April 14, UC Richmond reports calm winds at 5 mph. On May 27, they were 10-11 mph, with gusts up to 24 mph. The LA Times reported winds for May 27 of 10 mph with gusts up to 20 mph. So on May 27 we had a slightly lower water level but much gustier winds. I stayed around for the low tide so I could get more pictures of the rocks in the grouping where Laci was found.
---
I captured a 5-minute video at high tide, showing the amount of water on rock #13, on which Laci was found. You can see that the waves oftentimes cover the rock, making it appear that Laci could easily have washed to the exact location and position she was found.
However, I had the good fortune of capturing a dead animal on video. The animal was very close to a rock similar to #13. The video shows very clearly how slippery the rocks are, as they are covered with moss, and how very difficult it is to get a floating object onto one of the rocks. It suggests that Laci would not have banked where she was found unless the mean water level covered rock #13, which would not have happened at the water levels on April 12-14, 2003.
For best quality, choose the Media Player version. For slow dial-up connections, use the Real Player. If you do not have RealPlayer on your computer, click here for a free clone. If the picture is distorted, minimize your viewing screen.
Media Player Laci Site Real Player Laci Site
Media Player dead animal Real Player dead animal
The first 3 pictures were shot near the peak high tide. Then next 17 are stills from the video, also taken during the peak high tide. I captured stills to show the wave action as well as the actual water level, for those who are not able to view the video files. At the back of rock #13 is where Laci was found, as depicted in this picture.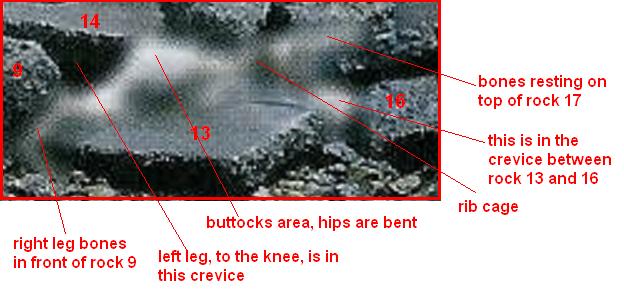 ---