The Defendant's Case, Jury Deliberations, & Verdict: Oct 6 - Nov 12, 2004
Friday, Oct 8 Correction: AP Fixes Laci Peterson Story
AP, a trusted news source for many years, corrected its previous report that Scott had in his possession, at the time of his arrest, Amber Frey's credit card. The AP story is picked up by hundreds, if not thousands of newspapers across the country. In addition, the Amber Frey credit card received much attention on various CourtTV programs. The card, as acknowledged by AP today, actually belonged to Anne Bird, Scott's half-sister.
Tuesday, 12 Oct 2004 Defense Case in Chief Postponed
Today's proceedings began with another in-chambers meeting. The resulting announcements did not make happy campers of those anxiously awaiting the Defense Case.
Court is now recessed until Monday, October 18, because of some problems that must be worked out. The cement expert will be recalled. Also beginning on the 18th, court will be in session 5 days a week, instead of just Mon-Thurs.
Geragos is expected to conclude his Defense Case on October 29th, closing arguments will be November 1 and 2, and jury deliberations will begin November 3. Transcript
Monday, October 18 Defense begins its Case in Chief
COURT EXHIBIT 24-LETTER FROM JUROR IS MARKED AND SEALED BY THE COURT TO BE OPENED ONLY BY ORDER OF THE COURT.
Judge Delucchi denied Defense Motion to Dismiss, saying the Prosecution had met the burden of evidence sufficient to withstand an appeal if the Jury renders a guilty verdict.
Defense Witness #1: Carl Jensen, PI Testimony
Direct Examination: Mark Geragos
Cross Examination: David Harris
Jensen testified about the walking Laci would have done during the Carmel trip and the collection of concrete samples from the Peterson driveway. Regarding the Carmel trip, Jensen noted the distance from the Normandy Inn to the beach was 1419 feet, including a steep incline, and from the beach to the water's edge another 125-150 yards. He noted that the distance from the Normandy Inn to the shopping mall where Laci and Jackie shopped is 3/4 mile one-way. Harris asked, on cross, if there were parking lots at the shopping mall so that possibly Laci drove there instead of walked. For the concrete samples, Jensen described the time frame and the process he used to collect a single large sample from the driveway to send it to be tested. When he attempted to remove the large piece with a shovel, it broke into 11 pieces. All 11 were sent.
Exhibits Introduced
EXHIBIT D8H: PHOTO ALBUM CONTAINING 104 CONCRETE PHOTOS.
EXHIBIT D8I: BOX CONTAINING CONCRETE SAMPLES FROM DRIVEWAY AT 523 COVENA.
EXHIBIT D8J: PHOTO BACK YARD WITH BARBECUE.
EXHIBIT 295A: PHOTO OF FENCE WITH CONCRETE MIX BAG
EXHIBIT 295B: CLOSE UP OF 295A
EXHIBIT 295C: DRIVEWAY OF 523 COVENA
EXHIBIT 295D: CLOSE UP OF 295C
EXHIBIT 295E: FRONT OF HOUSE WITHOUT CAR IN DRIVEWAY.
EXHIBIT 295F: FRONT OF HOUSE WITH CAR IN DRIVEWAY.
Judge Delucchi gave these instructions to the Jury:
Before you call Mr. Gebler, I want to instruct the jury about expert testimony to sort this out. Ladies and gentlemen of the jury, I'm going to instruct you. You are going to hear this instruction again before the case is submitted to you. But we have had the testimony of all these different experts. Now I'm going to give you a jury instruction to help you assess the testimony of these experts so you have some direction when you are trying to decide what weight you are going to give the testimony of each expert that may be called to testify. This is the instruction. What it says, it says witnesses who have special knowledge, skill, experience, training or education in a particular subject have testified or will ! testify to certain opinions. This type of witness is referred to as an expert witness. In determining what weight to give to any opinion expressed by an expert witness, you should consider the qualifications and believability of the witness, the facts or material upon which each opinion is based, and the reasons for each opinion. An opinion is only as good as the facts or reasons on which it is based. If you find that any fact has not been proved, or has been disproved, you must consider that in determining the value of the opinion. Likewise, you must consider the strengths and weaknesses of the reasons on which it is based. You are not bound by an opinion. Give each opinion the weight you find it deserves. You may disregard any opinion if you find it to be unreasonable. Now, this instruction applies both to the prosecution experts and to the defense experts that you will be hearing from. Okay, we'll take the morning recess until 11:30, then we'll pick up with Mr. Gebler.

Defense Witness #2: Steven Howard Gebler, Engineer Construction Technology Laboratories, Inc. Testimony
Direct Examination: Mark Geragos
Cross Examination: David Harris
Gebler examined the concrete samples collected by Jensen and also took 2 of his own samples. He testified that the concrete in the driveway and the anchor and the concrete debris on the trailer and on the boat cover match, refuting the testimony by Prosecution's concrete expert that the concrete in the driveway did not match the other 3.
Exhibits Introduced
EXHIBIT D8K: BINDER WITH PHOTOS OF CEMENT/CONCRETE
EXHIBIT D8I: BOX WITH APPROXIMATELY 17 PLASTIC BAGS OF CONCRETE PICKED UP FROM DRIVEWAY AREA AT 523 COVENA.
EXHIBIT D8I-12: PLASTIC BAG CONTAINING CEMENT SAMPLE WAS SHOWN TO THE JURY AND ADMITTED INTO EVIDENCE.
EXHIBIT 297: PHOTO CEMENT ON SIDE OF DRIVEWAY


Defense Witness #3: James Anthony Cavallero, Britz Fertilizer Testimony
Direct Examination: Mark Geragos
Cross Examination: Rick Distaso
Cavallero sent Trade Corp a check for products purchased on November 7, 2002. A few days later, he received a call from a check cashing company wanting to verify the check. The payee had been changed on the check. After seeing the community-type mailbox Trade Corps had in mid-November, Cavallero advised Scott to get a PO Box. When Laci disappeared, Cavallero called the tip line to report the stolen check incident, but he wasn't called back.
Defense Witness #4: Martin Laffer, CPA Testimony
Direct Examination: Mark Geragos
Cross Examination: David Harris
Laffer, a CPA and former criminal investigator for the FBI, reviewed the report and testimony provided by the Modesto City Auditor, who testified for the Prosecution. Laffer said Scott had no legal responsibility for Trade Corp's finances and that he and Laci were not living beyond their means and were, in fact, sitting pretty. He could not see any evidence of financial motive for Scott to murder Laci and Conner.
Tuesday, October 19
Defense Witness #4: Martin Laffer, CPA Testimony
Direct Examination: Mark Geragos
Cross Examination: David Harris
Laffer continued his direct examination today with questions about the corporate structure of SAPEC, a private investment company that wholly owns Trade Corp Inc and Trade Corp USA. He reviewed CA DOJ Mansfield's analysis of Scott and Laci's financial situation and his testimony; the investigation into possible embezzlement and misappropriation conducted by Modesto City auditor Nienhaus, and his testimony; and the testimony by Brent Rocha on the value of the various parts of the Rocha Estate and when each would be distributed. He concluded that Trade Corp's financial situation was irrelevant to Scott's financial condition and Scott had no financial benefit from Laci's inheritance if she was out of the picture.
Harris noted several factors that were not included in the information from Mansfield and Nienhaus--Laffer gave an opinion on whether they would affect his conclusion about Scott and Laci being in good financial position, but noted his intent was not to do a thorough investigation, but to look at what the Prosecution witnesses did.
Exhibits Introduced
EXHIBIT D8L: SUMMARY OF INCOME AND EXPENSES TESTIMONY OF DOUGLAS MANSFIELD.
Defense Witness #5: Timothy Phillips, East Bay Regional Park District Officer Testimony
Direct Examination: Mark Geragos
Cross Examination: David Harris
Phillips is an officer with the East Bay Regional Park District and responded to the call on April 14 reporting human remains along the Point Isabel shoreline. Because of an early recess because of an alternate juror's illness, Phillips had only had time to provide some background information on where various items of fabric and a tarp were found in relation to the body and the Hoffman Channel.
Court dismissed early because Jury 5 was ill.
Wednesday, October 20
REPORTED EX PARTE MEETING HELD IN CHAMBERS WITH THE COURT, MARK GERAGOS, PAT HARRIS, DEFENDANT, MICHAEL CARDOZA, AND LARON JOHNSON, COURT REPORTER. THE COURT ORDERS REPORTED EX PARTE MEETING SEALED AND TO BE OPENED UPON ORDER OF THE COURT ONLY.
THE COURT IMPOSED A GAG ORDER ON MR. CARDOZA WHICH WILL BE IN FULL FORCE AND EFFECT AS IF HE WAS ONE OF THE COUNSEL AND IT WILL BE AT THE SAME TIME AND THE SAME KIND OF GAG ORDER THAT APPLIES TO MR. GERAGOS AND ANY OTHER PARTY.
This gag order resulted from Media interviews Cardoza conducted in which he discusses a mock cross exam he had with Scott Peterson. Delucchi said this placed him under attorney-client privilege, which then required him to be under Girolami's gag order.

Defense Witness #5: Timothy Phillips, East Bay Regional Park District Officer Testimony
Direct Examination: Mark Geragos
Cross Examination: David Harris
Phillips described in detail the fabric items and tarp that were found near Laci's remains on April 14. The focus of his testimony, though, was on the decomposing scent he noted with the tarp, the same scent he noted with Laci's remains. Geragos asked a lot of questions about the Hoffman channel and the marshy area between Point Isabel Park and Hwy 580. Phillips said the area is closed after 10 pm but he frequently sees transients there during the night and early morning hours and a portion of the area is used as homeless encampments. Phillips also noted that the water level in the Hoffman channel rises and falls with the tide.
Dave Harris queried Phillips about the decomposing smell on the tarp compared to Laci's remains, and Phillips last words of testimony were, to him the smell was the same.
Exhibits Introduced
EXHIBIT D8M-2: PIECE OF FABRIC FOUND 6-7 FEET CLOSE TO THE BODY.
EXHIBIT D8M-3: PIECE OF FABRIC FOUND 6-7 FEET CLOSE TO THE BODY.
EXHIBIT D8M-4: PIECE OF FABRIC FOUND IN RIPRAP.
EXHIBIT D8M-5: PIECE OF FABRIC FOUND IN RIPRAP.
EXHIBIT D8M-6: WALKWAY - MARSH AREA
EXHIBIT D8M-7: AREA NORTH ALONG SHORELINE
EXHIBIT D8M-8: FABRIC
EXHIBIT D8M-9: FABRIC
EXHIBIT D8M-10: FABRIC (WHITE UNDERWARE)
EXHIBIT D8M-11: FABRIC (WHITE UNDERWARE)
EXHIBIT D8M-12: TARGET PLASTIC BAG/DUCT TAPE
EXHIBIT D8M-13: TARGET PLASTIC BAG
EXHIBIT D8M-14: TARGET PLASTIC BAG
EXHIBIT D8M-15: TARGET PLASTIC BAG
EXHIBIT D8M-16: TARGET PLASTIC BAG
EXHIBIT D8M-17: TARGET PLASTIC BAG.
EXHIBIT D8M-18: DIAGRAM WHERE TARGET BAG FOUND
Defense Witness #6: Ronald Robert Seitz, Dog Handler Testimony
Direct Examination: Mark Geragos
Cross Examination: David Harris
Seitz, a member of CARDA and Chief of the Alameda County Search and Rescue Team, was called by CARDA to participate in the searches using dogs at the Berkeley Marina on December 28. His dog TJ, like Anderson's Trimble, is a trailing dog. Given the choice of the sunglasses case and the pink slipper to use as the scent article, he chose the slipper. He said glass cases tend to be handled more by other family members, whereas slippers are not. He worked his dog in the area above the launch ramp for about 1-1.5 minutes, and the dog did not pick up a scent. The discussion about scent theory and different dog's abilities sometimes was quite convoluted, discussing possibilities of cross-contamination and ability to do a vehicle trail. Seitz said even the best dogs have only about an 80% accuracy and readily admitted that either his or Anderson's dog, which did alert on one of the launch ramps, could have been right.
Defense Witness #7: Kevin Bertalotto Testimony
Direct Examination: Mark Geragos
Bertalotto, investigator for the Stanislaus County DA Office, first appeared as a Prosecution witness and now is recalled as a Defense witness. Geragos began his direct examination by eliciting the details of a call Bertalotto received from a Chris Clark in response to a ModBee article that said the Prosecution planned to provide evidence that Laci had stopped walking two months before she disappeared. Clark offered his own eye-witness testimony to contradict that theory. Working for a family living on Encina, the man saw Laci walking McKenzie on Encina at least 5 times after October 15. He also saw the two of them in the park, and said one of the family members would talk to Laci when she waked McKenzie. He last saw Laci and McKenzie walking two weeks before Christmas. He said he knew it was Laci he had seen because on the night of the 24th he and the family he worked for on Encina brought coffee to the Peterson house.
Thursday, October 21
Defense Witness #7: Kevin Bertalotto Testimony
Direct Examination: Mark Geragos
Cross Examination: Rick Distaso
When Ron Grantski made the 911 call on December 24, he said the husband was golfing all day. He told Bertalotto he thought he got that information from Sharon. When he interviewed Sharon, she said she assumed Scott was golfing, because that was normal for him.
Bertalotto is the one Karen Servas called to change her timeline after her Preliminary hearing testimony. The Judge instructed the jurors that they may consider prior inconsistent statements when weighing a witness' credibility. Servas also informed Bertalotto that she identified the time of her ATM transaction at Bank of America as 10:53 am.
Distaso raised issues of the Clark tip credibility, by noting that Clark had a substance abuse problem and could remember dates in relation to just getting out of a rehab center. He also raised issues the Officer Phillips' testimony by asking Bertalotto if there were any short, stocky Modesto Detectives at the autopsy. The Judge sustained the objection, and he specifically asked if either Brocchini or Grogan were there. They weren't.
Distaso's questions on recross went beyond the scope of Geragos' direct, but were allowed by Delucchi to remove the need to call Bertalotto back for the Prosecution's rebuttal case.
Defense Witness #8: Ricardo Cordova, Neighbor Testimony
Direct Examination: Mark Geragos
Cross Examination: Birgit Fladager
Cordova is now a Judge with the Stanislaus County Superior Court but in December 2002 was an attorney in the public defenders office. At 10:15 p.m. on December 23, someone knocked at his door, asking for money to help his girlfriend who was stranded in the foot hills. Another neighbor had the same experience. A white station wagon was reported parked within 150 feet of the Peterson home. Cordova was currently working a case with a similar situation as an MO for casing a neighborhood. Cordova told Ridenour about the man, but when Officer Reed canvassed the area, he didn't seem to know about it.
Cordova is also the one that saw the pair of flip flop sandals in the front yard of the Peterson home, near the street. He saw them there the 25th and the 26th, and called them to the attention of two officers, but they were not collected as evidence. Cordova didn't know whether they were related to Laci's disappearance or not. Bertalotto had in his report that Cordova said he thought they were unrelated to Laci's disappearance, but Cordova said he did not tell him that because he didn't know whether they were related or not.
Cordova also briefed the jury on Laci's civic involvement and his concern about her boldness. Fladager brought up that she was engaged with Scott in those activities that had Cordova concerned.
Defense Witness #9: Charles Michael March Testimony
Direct Examination: Mark Geragos
Cross Examination: Dave Harris
The Court accepted March as an expert in gynecology, infertility and reproductive matters. March reviewed all of Laci's medical reports, and the reports/testimony of Laci's doctors, Dr. Peterson the forensic pathologist, Dr. Galloway the forensic anthropologist, Dr. DeVore, and Renee Tomlinson testimony on the day Laci had a positive on her home pregnancy test. He accepted Devore's measurements and age dating, but not his interpretation of when Conner must have died. He testified that the earliest Conner could have died is December 29, with the range spreading into January.
Harris refuted March's testimony on several grounds. He questioned why March is the only one out of all the doctors and experts who came up with a different death date. March responded he was not aware that either Peterson or Galloway came up with death dates, and that Galloway's age estimates fall within his time range, not Devore's. Harris brought up the possibility that Conner was a small baby, but March responded that that would extend the date out even further than December 29.
Harris also sought to discredit March because of his emphasis on the June 9 pregnancy test in determining Laci's conception, saying the only evidence of such was Renee Tomlinson's statement. Geragos countered with information about other family member statements to the media that Laci called all of her friends early on June 9th to announce her pregnancy.
March became flustered at times, and very long winded with his answers, but he stood his ground that the earliest Conner died is December 29.
Exhibits Introduced
D-8N: Dr. Galloway's age range for Conner based on femur and tibia bones
D-8O: Conner's gestational age based on Sep 24 measurements
D-8P: Conner's gestational age based on Dr. Yip's calculations
D-8Q: Dr. March's conclusion that Conner died on or after December 29
D-8R: Dr. Yip's conclusions compared to Dr. Devore's
D-8S: Dr. March's calculations based on different conception dates
Monday, October 25
COURT EXHIBIT 26 - ENVELOPE WITH LETTER FROM JUROR. THE COURT ORDERS COURT EXHIBIT 26 SEALED AND TO BE OPENED UPON
ORDER OF THE COURT ONLY.
Defense Witness #10: Det. Craig Grogan Testimony
Direct Examination: Mark Geragos
Cross Examination: Birgit Fladager
Grogan had in his notes Sharon's statement that Laci called family and friends around 7 am on June 9 2002 to announce her pregnancy, and remarked that he did not come across anything else in his investigation that suggests anything else. Fladager didn't ask any questions about this in her cross.
Geragos introduced a number of pictures taken December 27 and February 18 of the Covena home. The 27th pictures included a recipe for French Toast. The 18th pictures included items of sentimental value, as one of the functions of that search warrant was to determine if Scott had disposed of any sentimental items. Also included was picture of a camouflage jacket, which was sent in for testing, with negative results. Another camouflage jacket was seized in the December 27 search and already sent for testing, with results negative. Scott said he wore a camouflage jacket to the Marina on the 24th.
Geragos questioned Grogan about his request of the Rocha family and friends to see if they remembered anything unusual about Scott once they knew about Amber. Geragos went through all the times Grogan met with Sharon or talked with her on the phone, and she didn't say Scott told her in the first call that Laci was missing. He also noted Grogan's awareness of an interview Sharon did the night before she found out about Amber, when she said it was she that first used the word "missing," not Scott.
Grogan testified that the information given to them by Harvey Kemple, about Scott going to the Country Club to golf was proven inaccurate. Scott was tailed to the Club once by surveillance, at 5:15 in the evening, and only was there 30-45 minutes.
Geragos noted other witnesses that came forward with new information about Scott after Amber was revealed, all proven to be false.
Exhibits Introduced
EXHIBIT D8T: PHOTO KITCHEN ON 12/24/02
EXHIBIT D8U-1: PHOTO NURSERY
EXHIBIT D8U-2: PHOTO OF PHOTOGRAPHS, ALBUMS
EXHIBIT D8U-3: PHOTO RECIPE CREME BRULEE FRENCH TOAST
EXHIBIT D8U-4: TABLE WITH TWO MATERNITY BOOKS.
EXHIBIT D8U-5: PHOTO OF SCOTT AND LACI
EXHIBIT D8U-6: PHOTO KITCHEN FEB. 2003
EXHIBIT D8U-7: PHOTO KITCHEN CUPBOARD WITH CUPS, SAUCERS, ETC.
EXHIBIT D8U-8: PHOTO KITCHEN CUPBOARD WITH GLASSES, DISHES, ETC.
EXHIBIT D8U-9: PHOTO INSIDE OF DISHWASHER
EXHIBIT D8U-10: PHOTO RECIPE EGGS BENEDICT
EXHIBIT D8U-11: CLOSEUP OF FRENCH TOAST RECIPE
EXHIBIT D8U-12: PHOTO SECOND BEDROOM, COUCH, ETC.
EXHIBIT D8V-1: TRAILER W/PLACARDS 36 AND 35 (WAREHOUSE)
EXHIBIT D8V-2: PHOTO WAREHOUSE W/PLACARDS 30, 28, 29, PITCHER AND SLEDGE HAMMER.
EXHIBIT D8W: PHOTO CAMOUFLAGE JACKET, PLACARD 79
Defense Witness #11: Det. Jon Buehler, MPD Testimony
Direct Examination: Mark Geragos
Cross Examination: David Harris
Geragos' emphasis with Buehler was recounting the interviews he did of people at Salon Salon to determine what Laci was wearing the night of the 23rd. He interviewed 4 people on February 4, and they all gave different descriptions. He went back to Salon Salon on March 27 to interview more, and re-interview Perry, and also showed Perry digital photos of the clothes found in Laci's home. Besides not agreeing with each other, the people Buehler interviewed did not agree with the group Grogan interviewed.
Exhibits Introduced
EXHIBIT D8X: WIRETAP BETWEEN SCOTT AND HIS BROTHER JOE ON 4-18-03 AT 7:08 A.M.

Wiretapped Conversation, April 18, 2003
Both parties stipulated the foundation of the tape, which precluded Jacobsen from being recalled as a Defense witness. The conversation was picked up by a wiretap that Jacobsen obtained. The call took place at 7:08 am, and was between Scott and his brother Joe Peterson. Main points of the conversation were:
--Scott said he wasnít going to join them after all for golf that day
--Scott said he was being followed by private investigators, they had stopped and he asked them who they were but they wouldn't say
--They talked about how quick the bodies might be identified, so much hype out there
--Joe mentioned seeing pics in ModBee of all the people putting flowers and stuffed animals on the lawn at the house
--Joe said we pray and pray, we donít know what else to do
The tone of the conversation indicated neither Joe nor Scott believed the bodies would be Laci and Conner.
Defense Witness #12: Jacqueline Peterson Testimony
Direct Examination: Mark Geragos
Cross Examination: Rick Distaso
Jackie was asked about the money Scott had in his possession when arrested. She had withdrawn $10K on April 8 to assist John Peterson in buying out Scott's Dodge truck. She gave $7-8K to Scott for his equity in the truck. She had intended to draw it out of the account in her name, but the Bank of America took it out of Scott's account, which she is also listed on. Scott called it to her attention, and she withdrew $10K from her Washington Mutual account and gave the cash to Scott that day, when they were together at an Art Exhibit. She gave him cash because she didn't want Bank of America to put a hold on the funds.
Jackie said that she told Scott to purchase the Mercedes in her name because he was tired of losing vehicles. Distaso questioned that, since no vehicle had been impounded since early January, but Geragos noted how Scott continued to make monthly payments on the impounded truck and selling the Dodge to John and getting the Mercedes was a way of reducing his payment level.
Jackie also testified about the amount of walking she and Laci did at Carmel, over several hours shopping while Lee and Scott golfed. Distaso noted that the two women still had a vehicle available to them and all the places they went were accessible by vehicle, but Geragos asked Jackie on re-direct to confirm the two women had walked all those places, and not driven.
Exhibits Introduced
EXHIBIT D8Y: 5 PAGE DOCUMENT, BANK OF AMERICA WITHDRAWAL SLIP, STATEMENT, WASHINGTON MUTUAL STATEMENT AND BANK INFORMATION CARD.
EXHIBIT D8Z: PHOTO OF SCOTT AT BAPTISM
EXHIBIT D9A: W-2 WAGE AND TAX STATEMENT FOR SCOTT PETERSON.

Defense Witness #13: Lee Peterson Testimony
Direct Examination: Mark Geragos
Cross Examination: Rick Distaso
Lee testified to the homemade cement anchors that Scott saw while with him on a fishing trip at Lake Poway, which look identical to the one Scott made. He also said he was the one that made the golf tee time for April 18 for himself, Scott, Joe, and Mark, so they could have some time together and some sense of normalcy. He explained how the resident discount work and admitted Scott would be misrepresenting himself by using John's driver's license to obtain one, which would result in about $25-40 reduction in green fees. Distaso asked whether he didn't think it unreasonable that Scott was attempting to save $25-$40 when he had almost $15K in the car with him, and Lee replied, "My son wasn't paying, I was."
Exhibits Introduced
EXHIBIT D9B-1: PHOTO RENTAL BOAT WITH CEMENT ANCHOR
EXHIBIT D9B-2: PHOTO BOATS AND WALK WAY
EXHIBIT D9B-3: PHOTO BOAT WITH ANCHOR
EXHIBIT D9B-4: PHOTO BOAT WITH ANCHOR
EXHIBIT D9B-5: PHOTO BOAT WITH ANCHOR
EXHIBIT D9C: LEE PETERSON RESIDENCY CARD FOR TORRE PINES GOLF COURSE
Defense Witness #14: Officer Michael Hicks Testimony
Direct Examination: Mark Geragos
Cross Examination: Birgit Fladager
MPD Tactical Patrol. Involved in the investigation of the Medina burglary. On January 2, he had one of the suspects, Steven Todd, in the back seat of the patrol car and Todd told him he would tell him about the burglary, but he wasn't involved with the woman and the baby. The Judge interrupted to instruct the Jury that the testimony was not given for the truthfulness of what Todd said, but for the reasonableness of the investigation.
Todd said he routinely drove his bike from his home in the Airport district, down Covena, into the park, and up the foot path the Scenic to his Mom's house, and then he would take the reverse route back home. On December 25, he noticed that the Medina house appeared to be empty. He returned about 3 am on the 27th, removed some items, and used the dolly to move the safe out into the front yard behind some bushes. He went to get Pearce and about 4:00-5:00 am they took Pearce's Mom's car back to get the safe.
Tuesday, October 26
Defense Witness #14: Officer Michael Hicks Testimony
Direct Examination: Mark Geragos
Cross Examination: Birgit Fladager
Hicks provided information that was given to him in his interview with the other burglary suspect, Pearce, which substantially agreed with what Todd told him, except for fixing the date of the burglary on the morning of the 26th, instead of the morning of the 27th.
At the conclusion of Hicks' re-direct, the Defense Rested its case.
Judge Delucchi told the Jury that 8 rebuttal witnesses will be called by the Prosecution on Wednesday, October 27, and court would convene at 12:30.
Closing arguments are still scheduled for next Monday and Tuesday.
Wednesday, October 27 Stipulations
In a surprise ending, the Prosecution decided not to put on its rebuttal witnesses. The Judge read four stipulations and dismissed the Jury until Monday morning to hear closing arguments. Thursday will be spent with the attorneys and Judge deciding which exhibits will be admitted into evidence, and Friday settling the instructions to the Jury. Transcript
1st stipulation
If Vladimir Rodriguez were called to testify, he would testify as follows: That he was shown photographs that had been downloaded from the internet showing a bag of concrete in the Peterson driveway. Rodriguez would testify there were several bags of concrete purchased and placed in the driveway. He would testify that they were going to use the concrete to replace the fence post that supports the gate by the driveway that was removed in order to access the backyard with a tractor to dig the hole for his pool. Rodriguez would testify that when they removed the fence post by the gate, they found it was not in concrete. Rodriguez would further testify that the contractor did not replace the front fence post by the gate in concrete since there was no concrete to begin with. Rodriguez identified the bag of concrete in the photographs, that has been labeled 295A through F, as being his. Those are going to be moved into evidence. There were four photographs about the driveway with a bag of concrete. He would further testify that he does not know what happened to it after it was not used for the fence post. Rodriguez said it remained in the driveway for several weeks. And then he assumes the contractor used it somewhere else. Rodriguez would further testify that he had no concrete work done on the Peterson property. Okay, that's what he would testify to. So that testimony is not in dispute.

2nd stipulation
It is also stipulated that People's Exhibit Number 298 is an e-mail recovered from the dining room table on February 18, 2003, during the search warrant at 523 Covena. And that's been admitted into evidence. And when you when you are deliberating, if you want any of these exhibits, obviously we'll send them to you, you can go through them.

3rd stipulation
The Defendant's H is going to be admitted in evidence to take the same number, now Defendant's H. If you recall this goes way back. Remember Mr. Austin testified from the store, and he identified a no-sale receipt from Austin's. That's going to be admitted into evidence.

4th stipulation
There was also a stipulation that defendant's next in order was recovered by Lydell Wall. Off the computer, Scott's computer. And then the defense marked as 9D, Defendant's 9D is a 3-page document 9, D's which was a Yahoo Search conducted on Scott Peterson -- on Scott's computer, which results in a map of The Bay. This was recovered by Mr. Lydell Wall on August the 7th, 2003. And there is no dispute that that's what he did. And that's also been admitted in evidence and take the same number.
Thursday, 28 October 2004
UNREPORTED CONFERENCE HELD IN CHAMBERS WITH THE COURT AND COUNSEL REGARDING EXHIBITS.
UNREPORTED REVIEW OF EXHIBITS HELD IN THE JURY ROOM WITH COUNSEL, DEFENDANT, AND MARYLIN MORTON, COURTROOM CLERK.
Friday, 29 Oct 2004 Exhibits to be admitted, Finalize Jury Instructions
Judge Delucchi met with the attorneys to rule on exhibits to be admitted into evidence, and to finalize the Jury instructions. Transcript
3Exhibits to be Admitted into Evidence
The attorneys prepared a list for the Judge of the exhibits in dispute, and the Judge ruled on each, tentatively. People presented 298 exhibits and Defense D to the 9th power.
People's 86 will not be admitted into evidence by stipulation.

People's 259, Dr. Galloway's anatomical chart of Laci's remains, will be unsealed for the Jury, but not placed on the internet.

Defendant's R, portions are to be redacted.

Defendant's 2M, the report from San Joaquin, is not admitted by stipulation.

Defendant's 5M, items recovered from a computer. Not admitted by stipulation.

Defendant's 6C3-10 was not identified on the record.

Defendant's 6R, labels from Trade Corp, is withdrawn, no foundation.

Defendant's 6S-3, photo of the umbilical cord with captions added. Photo is admitted with captions redacted, sealed for the Jury to see but not put on the internet.

Defendant's 7Y5-6, withdrawn

People's 51, 52, 102I, 103B, 104, 105A-G, 106A-G, 248A-Q, 250A-N; Defendant's 2X, 6S1-2; The autopsy photos to be sealed for the Jury to see but not put on the internet

People's 87, police report by Holmes dated December 30, 2002, The Court's general ruling is that police reports containing opinions and conclusions are hearsay and normally not admitted into evidence.

People's 106F, G, H, I, J, and L, photos of Miss Fulbright in the boat. Defense objected on the grounds that it wasn't present and doesn't know what the circumstances were. Delucchi ruled to admit the photos because foundation was established, Fullbright was available for cross examination, and they go to weight not admissibility.

People's 113, list of parolees and 290 sex registrants in the city of Modesto, Prosecution withdrew it, but Defense wanted it in. Judge ruled it in and sealed for the Jury to see but not put on the internet.

People's 134, photo of Det. Hendee with the leaf crown on his head to look like Julius Caesar and skylarking around. Prosecution withdrew it, Defense argued it be kept in as it goes to bias and motive and if it accurately reflected what was going on at the time. Geragos said he made a tactical decision not to show the picture at the time to the Jury, waiting instead to argue it. Delucchi ruled against admitting it because it does not have probative value.

People's 187A, offered by the Prosecution to show that Scott previously had offered an item on eBay but sold it outside eBay and thus could have followed the same route to sell the Croton watch. Delucchi refused to admit the item, ruling that it's relevance was rather minor.

People's 286, 3 page DMV form from Ruvalcaba, admitted but sealed because of personal information on the bill of sale, can be shown to the Jury but not put on the internet.

People's 278, search warrant video from February 18, 2003, to be admitted video only, without the narration by Grogan.

People's 160A-B, other autopsy pictures, to be sealed by stipulation, shown only to the Jury, not put on the internet. 160A shows Laci's right thigh with duct tape and barnacles, hair samples, and pubic hair samples.

People's 182A-EE, binder with contents, sealed because of personal information, to be shown to the jury, but not put on the internet.

People's 204, 205A, and 206A-E, various AT&T cell phone records, admitted but sealed because of personal information, to be shown to the jury but not put on the internet.

People's 221, eBay binder, admitted but sealed because of personal information, to be shown to the jury but not put on the internet.

People's 29, cell phone records of defendant, admitted but sealed because of personal information, to be shown to the jury but not put on the internet.

People's 35, cell phone records for Susan Medina, admitted but sealed because of personal information, to be shown to the jury but not put on the internet.

People's 249A-B, cell phone records for Amber & Ron Frey, admitted but sealed because of personal information, to be shown to the jury but not put on the internet.

People's 131A-E, 136A-B, 137A-B, unedited versions of the media interviews, not admitted because they are unedited versions and the Court ordered redacted versions be played for the Jury.

Defense G1-2, emails with respect to park closure and Laci's efforts to regulate the transients. Prosecution argued that no foundation laid, Defense argued foundation laid by Cloward. Delucchi ruled to admit into evidence.

Defense L1-3, press advisories for Jan 9, 10 and 11, 2003, indicating where searches were being conducted. Prosecution claimed no foundation. Delucchi ruled to admit, goes to weight rather than admissibility.

Defense QQ, Brocchini's notes. The Defense used only one sentence from the notes in cross examination. Not admitted.

Defense M, press advisory on the burglary. Not admitted, no foundation.

Defense N, purchase ticket from a pawn shop, regarding Croton watch pawned by Deana Renfro. Prosecution objected, lack of relevance. Admitted, goes to weight rather than admissibility.

Defense NN, flyer on reward for Medina burglary. Prosecution objected, hearsay and no foundation. Admitted, goes to weight rather than admissibility.

Defense 5R1-2, newspaper articles regarding the anchor. Prosecution 352 objection, multiple layers of hearsay information.

Defense 6C1-11, photos of yellow-handled pliers and red-handled wire cutters. 6C1-2 & 6C11 were identified and foundation provided, admitted; 6C3-10 were not identified, not admitted.

Defense 6I1-2, yahoo maps of Stockton and Tracy; 6I3, Safe Track, a DOJ map. Admitted.

Defense 7A1-2, receipt for building supplies. Admitted by stipulation.

Defense 7B, ModBee article stating Scott went to the marina.

Defense 7M, press release. Prosecution submitted, based on Delucchi's previous ruling on other press releases. Admitted.

Defense 6V1-6, press releases. Prosecution submitted, based on Delucchi's previous ruling on other press releases. Admitted.

Defense 6Z1-2, bag of cement and receipt. Delucchi objected because Geragos had promised Raffi would testify that Geragos did in fact purchase the cement. Geragos withdrew, not admitted.

Defense R, Central Valley HIDTA report, page 4. Redacted to include only the phone number that the Defense wanted: 14 the January 13th, 2003, at 7:22:52 a.m., incoming call to voicemail, ask Scott to call him when he's available. Redacted version admitted by stipulation.

Defense 4C1-7, photos of 523 Covena. 4C1 and 4C7 not admitted, no foundation.

Defense 6J3, photo of the 523 Covena driveway. No objection to being admitted, just that the photo is missing. Delucchi asked all of the attorneys to check their briefcases.
The parties agreed that the exhibits admitted into evidence, except the sealed ones, will be available to the media for viewing on Wednesday afternoon, after the Judge has instructed the Jury and dismissed them for deliberations.

3Discussion on Jury Instructions
Dog Tracking Evidence
Delucchi's recommendation: Evidence of dog tracking of the victim has been received for your consideration. This evidence is not, by itself, sufficient to permit an inference that the defendant is guilty of the crime of murder. Before guilt may be inferred, there must be substantial evidence that supports the accuracy of the dog tracking evidence. The evidence can be direct or circumstantial, and must support the accuracy of the dog tracking evidence. In determining the weight to give to dog tracking
evidence, you should consider,
whether or not the handler was qualified by training and experience to use the dog;

whether or not the dog was adequately trained in tracking humans;

whether or not the dog has been found reliable in tracking humans;

whether the dog was placed on the track where circumstances have shown the victim to have been;

whether or not the trail had become stale or contaminated by the environment, weather, or any other factor; And

any other factor that could affect the accuracy of the dog tracking evidence.

Geragos asked for vehicle tracking to be specifically added to #3, but Delucchi thought it was better to be broad and then let Geragos argue the vehicle tracking point. Geragos then asked for "scent article" to be added to #5, to say "the trail or scent article." Delucchi said he didn't get specific because he didn't want to appear to be commenting on the evidence.
David Harris noted that the instruction should exclude the word "substantial" in the sentence, ". . . there must be substantial evidence that supports the accuracy . . ." Delucchi agreed that it should say "other evidence," not "substantial evidence," based on CalJIC 2.16. That was the only change recommended.
Failure to timely produce evidence
Geragos requested an instruction on the Prosecution's failure to timely produce evidence. Delucchi admitted it was a problem, but noted that the problem hasn't surfaced again since his sanction of striking a witness' testimony. Delucchi was prepared to use CalJIC 2.28, which includes both the Prosecution and Defense, but Geragos objected to the inclusion of the Defense. Delucchi finally said he thought striking the witness' testimony was sufficient, and including an instruction would be beating the issue to death.
mtDNA
David Harris requested an instruction on mtDNA, but only to make Delucchi aware of what Girolami's ruling. Delucchi won't include the instruction, saying it amounted to commenting on the evidence.
Resolution of conflicting expert testimony
CalJIC 2.83 is the standard instruction, and will be given.
Concurrence of act and specific intent
CalJIC 3.31 is the standard instruction. Delucchi said his emphasis will be that the the definitions of first and second degree murder includes the intent.
Proof need not be shown as to the exact time of the crime
CalJIC 4.71 is the standard instruction, and says that on or about is close enough.
Degree of murder
CalJIC 8.70 is the standard instruction.
Doubt whether first degree or second degree
CalJIC 8.71 says that if there is any doubt whether it's first or second degree, the defendant should be given the benefit of the doubt and verdict of second degree returned.
Involuntary and voluntary manslaughter
Geragos requested an involuntary manslaughter instruction IF Delucchi gives a second degree instruction. Prosecution objected on the grounds there is no evidence in this case to reduce it to involuntary or voluntary manslaughter. Delucchi defended his inclusion of second degree instructions, saying that Geragos spent much time disabusing the Jury of the notion that Scott premeditated and deliberated Laci's murder, but if they are convinced he did murder Laci, the second degree is the next rung on the ladder. Or, if t is a hung Jury, the Stone instruction requires second degree be considered. If the Jury is going to acquit of first degree, second degree must be considered. The Judge further argued that you can't commit the greater without committing the lesser, so it stands to reason to allow consideration of the lesser. Delucchi said he will not include the manslaughter option.
Flight
Geragos objected to inclusion of a flight instruction. Delucchi proposed: The attempted flight of a person after the commission of the crime, or after he is accused of a crime is not sufficient, in itself, to establish his guilt, but is a fact which, if proved, may be considered by you in the light of all the other proved facts in deciding whether a defendant is guilty or not guilty. If there was such an attempted flight, the weight to which this circumstance is entitled to is a matter for you to decide. Mere return to familiar environs from the scene of an alleged crime does not warrant an inference of guilt.

Geragos asked for the following modification: If there was such an attempted flight, that is for the jury to decide. The weight to which this circumstance is entitled is a matter for you to decide. All parties agreed on this change.
Pre-trial statements
The note comment on CalJIC 2.70 says The court has a sua sponte duty to give the instruction whenever a pretrial statement of a defendant is received that tends to establish guilt when considered with the remaining evidence in the case, regardless of whether the out-of-court statement is technically an admission under the traditional rules of evidence. And cites about six cases. Geragos argued that Scott's statements were not an adaptive admission. David Harris asked for CalJIC 2.71 to be included, which says it's a pre-trial statement of a defendant that's received that tends to establish guilt by placing himself where the bodies are found. Delucchi said he thought it was not justified under the evidence.
Geragos objected to inclusion of 2.71, 2.71.5, 2.71.7, and 2.72. Delucchi commented that he didn't see any pre-offense statement that indicates any intent, plan, motive or design that he may have uttered. D. Harris replied that the statements to Shawn Sibley and Amber Frey that he had just lost his wife qualified, but Delucchi said that was not persuasive.
Delucchi said he will give CalJIC 2.73 as modified.

Opposition to media coverage of the verdict
Delucchi originally agreed to media coverage of the verdict because of no objection from either party. Subsequently, both the Peterson and the Rocha family expresses objections. "I don't want to expose the families to further scrutiny, and turn this into some sort of a spectacle, depending on what the verdict is going to be in this case."
Availability of Attorneys for the Verdict
Delucchi expressed concern about the attorneys all returning home and not being available when a verdict is reached. Pat Harris will remain in Redwood City in order to be available on demand, and Geragos will be available if his commitment to the Preliminary Hearing in Pasadena allows him (the hearing has been conducted on Fridays). David Harris asked for a 2-hour notice time to accommodate the family members living in Modesto, but Delucchi insisted they stay in Redwood City because the time of day the verdict comes in cannot be predicted and traffic may prevent them arriving within 2 hours.
Monday, 1 Nov 2004
Judge Delucchi reviewed the CalJIC instructions he planned to give to the Jury with the attorneys. He indicated that if the jury hung, he would give them the instruction used by Judge Virga (People vs. Moore. 96 Cal.App.4th at page 1105). If they are still hung, he would give them the Stone instruction. And if they remain hung, he would rule a mistrial.
Then Judge Delucchi explained the purpose of the Closing Arguments to the Jurors: Transcript
We've come to the part of the trial now which is called argument. The law permits the attorneys for either side to argue to you reasonable inferences and deductions from the evidence that's been presented; okay? The prosecutor makes an opening argument. The defense attorney makes his argument. And then the prosecutor has a closing argument. The reason why the prosecutor gets two chances to argue to you is that the prosecutor has the burden of proof. Since he has the burden of proof, the law gives him two chances, okay? Now, during the course of these arguments, if the attorneys make reference to some portion of the evidence that's different from your recollection of what was testified to, feel free to disregard the attorney's version of what took place and rely on your own memory. You're the trier of fact. Sometimes during the course of the trial the lawyers will ask a question, and while they're formulating the next question they may not hear the answer the same way you did. So it's not an intent to deceive you by any means, but it happens, okay? So the point is if there's a conflict in the evidence, if you have -- and your recollection is that it's one way -- and, of course, you have your notes, and we have read back, too -- you can rely on your own version of the events that took place, okay?
Rick Distaso presented Closing Arguments for The People. Full Text Highlights:
Itís simple. Itís a simple case where a man murdered his wife.

I can't tell you he did it at night. I can't tell you he did it in the morning. I don't have to prove that to you. I only have to prove that he did it.

The only person that we know without any doubt who was there in the exact location where Laci and Conner Petersonís bodies washed ashore at the exact time when they went missing is sitting right there <pointing to Scott>.

That alone is proof beyond a reasonable doubt. You can take that fact to the bank, and you can convict this man of murder.

'I was once with a woman who I thought was my soul mate, but I lost her.' Laci Peterson was dead to Scott Peterson a long time before he killed her.


Iím not telling you that he killed his wife to go marry Amber Frey. Amber Frey represented his freedom. Freedom is what he wanted.

This is the life that Scott Peterson wanted. Not necessarily to be with Amber Frey, although he was completely obsessed with her. The reason he killed Laci Peterson was that Conner Peterson was on the way. Things were going to change. No more of this running around, living this double-life thing.


He wants to live the rich, successful, freewheeling bachelor life. He can't do that when he's paying child support, alimony and everything else.

He didn't want to be tied to this kid the rest of his life. He didn't want to be tied to Laci for the rest of his life. So he killed her. There's no big secret there.

I don't care how upset you are, nobody forgets that you just got home from fishing at the Berkeley Marina.

Peterson had planned to dump Laci's body, get back to Modesto and go to the golf club, but the disposal took longer than planned. And that was it. He just screwed it up, screwed up his alibi.


He's a very manipulative guy. Scott Peterson, he knows exactly what he's doing at all times. The two lives are catching up on Scott Peterson.

He got those [porn] channels because he knew she's not coming home and he's moving on with his life. He created a fantasy life in his head and he made it his reality.
Tuesday, 2 Nov 2004
Delucchi continued the discussion of Jury Instructions. Geragos objected to the inclusion of the 2nd degree instruction based on 667 of the CCP and 1259 of the Penal Code, both sections. Delucchi overruled his objection.
Mark Geragos gave the Closing Arguments for the Defendant. Full Text Highlights:
Scott Peterson asked his sister-in-law to come over for pizza the night detectives think he killed his wife.

Authorities found no trace of evidence indicating she was murdered in the home.

He paid her health insurance premium the day before she vanished.

Police evidence photos showed a curling iron out in bathroom, though their housekeeper testified she put items away the day before.

Someone used a computer in the home on Dec. 24, 2002, to search for a fleece scarf and a sunflower-motif umbrella stand. Itís reasonable that Laci Peterson, who wore scarves and had a sunflower tattooed on her ankle, surfed the Internet that morning.

Someone printed from the Internet a recipe for crŤme brŻlťe that morning.

A neighbor, whose bedroom is about 15 feet from the Petersonís Covena Avenue home, heard nothing unusual that night.

After researching the umbrella stand, Laci Peterson probably asked her husband to put their patio umbrellas in storage. Thatís why they were in his pickup when police arrived ó not because he used them to cover her body, Geragos said.

Testimony indicated that Scott Peterson was attempting to spend more time with his wifeís parents because they would soon have a new grandchild.

Scott Peterson appeared affectionate in a store and rubbed his wifeís stomach, an employee testified.

The theory that he didnít want to be saddled with child support doesnít make sense, because Laci Peterson stood to inherit $1 million ó perhaps wiping out her husbandís obligation if they divorced.

He let police search his home and warehouse, provided blood and hair samples and retrieved receipts proving where he was the day in question.


The uncontroverted testimony is that this guy searched more than any human for his family.

Distasoís suggestion Monday that Peterson grabbed a handgun for protection just before leaving to dump his wifeís body makes little sense.

Where did that come from? Now heís going to shoot it out with the CHP on his way to the marina? Thatís so absurd, makes no sense. The only thing theyíre banking on is youíll hate him, and if you hate him you will suspend rationality.

Detectivesí tunnel vision kept them from investigating reported sightings of Laci Peterson for several months, yet on Jan. 2, 2003, they used media to appeal for help from anyone who might have seen Scott Petersonís pickup or boat.


If Scott Peterson was the person who was responsible for Laci's death, wouldn't he know what she was wearing when he killed her? Why would he tell them a white shirt and black pants? What sense would that make? Then he hides the tennis shoes and while she's dead, he watches Martha Stewart.
Wednesday, 3 Nov 2004
Geragos concluded his Closing Argument for the Defendant. He discussed the twine around Conner's neck, and Dr. Peterson's statement that it had to be cut because it could not be removed over the head. He noted the possibility that the twine was used to keep a bag on Conner, and that the bag was held in place by the twine. Geragos reviewed several of the jury instructions, reminding them of their responsibility to apply them as they deliberate. He argued that he has proven, beyond reasonable doubt, that Laci was alive on the 24th.
Rick Distaso gave the rebuttal argument for The People. Text Distaso argued that major elements of the case are pretty much stipulated to: Laci and Conner were human beings and they were murdered with malice and aforethought. He said premeditation is also stipulated to, in the sense that the Defense claims someone other than Scott abducted Laci, intending to kill her. That makes two first degree murders proved beyond a reasonable doubt. Distaso then noted that much of the Defense case rested on hearsay information, which was not admitted for the truth and which cannot be considered by them as the truth. The only exception was Diane Jackson's statements.
Distaso continued to argue that because the bodies were found where Scott said he went fishing, only two possibilities exist: either Scott put them there, or someone else did just to frame Scott. He claimed it is an undisputed fact that Laci and Conner were in the Bay for 3-6 months, and argued that it's not reasonable to conclude someone else put Laci's body in the Bay. Distaso concluded with a few more rebuttal points regarding Scott's visits to the Marina, his research on the internet, the Croton watch, and the lack of injuries to Scott's hands. To explain the mineralization on Laci's pants that Dr. Peterson said resulted from repeatedly being alternately covered and exposed, he said that occurred during the process of being washed ashore and while she lay on the rocks before being found.
Distaso closed his argument by refuting Geragos' claim that the Prosecution frequently changed its theory. He said the Prosecution has not presented a theory until the Closing Argument, that it's not allowed to do so.
Judge Delucchi then read the instructions to the Jury and retired them to select a foreman and begin deliberations. Deputies assigned to the jury were sworn and identified for the record. Text
Thursday, 4 Nov 2004
Judge Delucchi heard arguments from Ms. Wilcox, representing the media, on the issues of access to the in-chambers transcripts and live video coverage of the verdict. Delucchi denied both requests, and audio only will be allowed for the reading of the verdict.
The Jury requested to see the following exhibits at 9:42 a.m.:
People's Number 7, 8, 10, 11, 13, 15A through C, 28, 37, 38, 53, 54, 63, 73, 68, 68A, 107, 111A through K, and 112.
Defendant's DD1 through 3, DIII, DJJJ, and DOOOO.
Friday, 5 Nov 2004
The Jury requested to see the following exhibits in the late afternoon:
People's 23, 23A, 79, 90, 207A, 212.
Defendant's T, U, Z and 5Q.
The foreperson requested to see the boat again, and that was scheduled for Monday morning. Transcript
Monday, 8 Nov 2004
Judge Delucchi marked into evidence the boat (People's 299) and the trailer (People's 300). The Judge, Scott and the Defense Counsel, and the Prosecution were present when the Jury took another look at the boat. Some of the jurors wanted to be able to sit in the boat. And the Judge said go ahead. Geragos objected vigorously to allowing the jurors to get into the boat and to rock the boat.
Geragos: The boat is in a trailer. It's not on the water. The Court excluded my demonstration on the water, which I would tell you was a lot closer to what the prosecution theory was than having a boat on a trailer in the parking lot allowing somebody to get in and start to go back and forth.

Delucchi: In my defense, that's debatable. But go ahead.
Geragos: Okay. The problem is, it would now -- we have now taken evidence. I want to reopen, and I want to show the demonstration. And there is -- it's a major problem, because we have a situation where jurors now have now gotten inside the boat. One juror literally -- actually more than one juror stood in the boat and started to rock back and forth in the boat. That's the taking of evidence, and that is a juror demonstration. And they are forbidden to do that under CalJIC. You read the instruction to them. They have now done precisely what you forbid them to do. And --

Delucchi: With the Court's connivance, incidentally.
Geragos: Well, I don't think that the Court intended to do it. But what actually happened -- and I don't think the Court would dispute, at least two jurors were inside the boat rocking around. When I say rocking, I mean rocking. They were standing on one foot, putting weight on the other, putting weight back and forth. That is precisely what is not allowed under CalJIC. It's multiplied or amplified by the fact that I have the demonstration on the water in a similar boat, which obviously shows you can't do what the prosecution says you
can. You know, they have been led to believe that you have got the same kind of stability.
I will state for the record that when I started to object to what was going on, that the Court did, at the end of the viewing, tell them that, remember, the stability is not same on a trailer as it is in the water. But at that point the cat's out of the bag, and it's a major problem. So it's my -- I don't want a mistrial. What I want is to reopen --

Delucchi: I understand.
Geragos: I want to show the demonstration.
Delucchi: Okay. I did advise the jury that they should bear in mind that this boat was not in the water as they stood in the boat. And I also advised them that the boat appeared -- also that the boat was secured to a trailer. The reason why the Court permitted the jury to get into the boat initially -- I didn't know they were going to jump up and down on the boat -- was the fact that the District Attorney had presented an experiment where they had -- a representative of the District Attorney's Office had actually laid down flat in the boat. And I thought it was important for the jury to take a look, see if there was enough room for somebody to sit -- lay down flat in the boat. That was not, in my opinion, taking additional evidence because it was already set forth on the record. The same case, People versus Mouser makes -- I'll allow the prosecution to address that issue.
Geragos insisted that the actions of the Jury constituted an experiment, and the CalJIC expressly forbids an experiment by the Jury. He asked for either of two remedies: to reopen the hearing and allow admission of his boat demonstration OR a mistrial. Delucchi denied his request, saying that in People v Mouser the right of the Jury to carefully scrutinize evidence was affirmed and the demonstration could work as well for the Defense as for the Prosecution. Transcript
Presiding Judge Mark Forcam conducted a hearing on a media request to have one pool still camera located approximately 40 feet from 2M at the time the verdict is read. Karl Olson represented the SF Chronicle, the Contra Costa Times, the LA Times, the Sacramento Bee, the San Jose Mercury News, and the Associated Press. Rochelle Wilcox represented the broadcasting media.
Geragos argued that having cameras on the 2nd floor violates Rule 980's prohibition against filming jurors or spectators. Judge Forcam and the court CEO had asked Delucchi to allow an audio feed of the verdict so the hallway wouldn't be filled with a crush of people waiting for the verdict. Dave Harris argued that the families should be given an opportunity to go someplace and take their time to compose themselves and decide if they want to go before the cameras. . . .with a telephoto lens, it's going to be reaching out directly into their face. It's going to be reaching out, zooming in to try and get as much grief and suffering as they can get for the ratings on TV. And that's not something that they should have to look at forever . . . we're asking the Court to look at the human side of this and protect the rights of the families against the media's intrusiveness.
Judge Forcam made a compelling point: Does the public really have, though, a need to see someone who's upset? I mean, let's assume, you know, that one side or the other, as counsel have argued here, is going to be very upset by the verdict, is it really necessary for the media to portray that sort of sadness? He denied the request because it would disrupt other court proceedings on the 2nd floor and to be consistent with Judge Delucchi's ruling. He did authorize 3 additional cameras on the 1st floor.
Judge Delucchi then resumed Court and read some additional instructions to the Jury. Text
Tuesday, 9 Nov 2004
In-chambers hearing. Delucchi ruled the hearing to be sealed because 1) the information therein would irreparably harm Scott's right to a fair trial, potentially prejudicing public opinion in this case; and 2) to protect the sanctity of the jury and the integrity of the deliberative process.
The jury was brought in and Juror #7 replaced with Alternate #2. Delucchi told the newly constituted jury that both Scott and the People have the right to a verdict reached only with the full participation of the twelve jurors who return their verdict, and admonished them to start their deliberations from the beginning. He also reminded them that they are to decide all questions of fact from the evidence received in this trial, and not from any other source. Transcript
Wednesday, 10 Nov 2004
After an in-chambers meeting, Judge Delucchi announced to the media and the public that the foreman, Juror #5, has been removed from the Jury and Alternate #3 will take his place and that Juror #6 was the new foreman. The Jury was brought in and Delucchi made the change, then instructed them to begin deliberations from the beginning and to decide all facts on the evidence presented during the trial. The Jury was then retired to begin deliberations. Transcript
As part of his Motion to Discharge Jury . . . filed November 17, Geragos included this exchange between himself and Judge Delucchi in response to the first foreman's concern that jury deliberations were aimed at pleasing the public.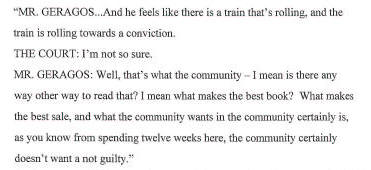 In late afternoon, Grogan was sent out of the courtroom by Fladager, and then returned accompanied by a man Chuck Smith identified as a investigator for the San Mateo County DAs office. The investigator was escorted back into Chambers by a bailiff. Within a few minutes the Investigator came out of chambers and the bailiff announced the jury had ceased deliberating for the day and asked all to leave the courtroom. The rumor mill reported that someone had faxed information related to Juror 6 and his intent to block a verdict.
Outside the courtroom, the boat parked a few blocks away was gathering much attention. These are the pics I took about 4:00. Later that afternoon, the spectators grew in size, candles were arranged around the boat, and someone used the flowers to spell out Not Guilty.
Friday, 12 Nov 2004 The Verdict
Judge Delucchi entered as Court Exhibit 33 a letter from the investigator for the San Mateo County DA's office, and as Court Exhibit 34 a report from Sergeant Dowdy. Both documents were sealed.
Delucchi's next appearance in court was to announce that the verdict was in and would be received at 1 p.m. The Clerk read each verdict, and the foreman affirmed it was a correct verdict. 1st degree murder for Laci, 2nd degree murder for Conner, and yes on Special Circumstances. Pat Harris requested the Jury to be polled, and each one in turn affirmed each of the verdicts.
Delucchi informed the jury that we new enter the penalty phase, which would begin on Monday, November 22, with testimony being heard through the 24th. Court recessed then until Monday, November 29, with the conclusion of testimony, and deliberations expected to start on November 30. The Jury will be sequestered during the deliberations. Transcript