Courtship & Marriage: 1990-2002
1990 Scott graduated from high school, attended Arizona State
Scott led his high school golf team to an undefeated season his last year. Scott contacted several good golf schools and sent videos of his swing. He particularly wanted to go to ASU because Phil Nicholson was attending there. The ASU coach invited them down so he could see Scott in action, and then said he had no scholarship money left but invited Scott to enroll at ASU and he would be able to play with the team. Scott realized the depth of ability on the ASU golf team, and chose to discontinue after one semester. Scott returned to live with the family in Morrow Bay and worked at the family San Diego Crating business for six months. He then attended Cuesta College in San Luis Obispo, which had a good golf team and he had some good seasons. Scott informed his parents that he was going to be on his own, and he moved out of the family home to room with 3 roommates. He worked to pay his own way through school.
1992-1993 Jackie's older children joined the family
When Scott was about 20, his half-brother, Don, looked for and found Jackie, his birth mother. Lee described Don as a fine young man, with a good job and a nice family. As soon as he found Jackie, he went right out to San Diego to met her and her family. Soon after, Scott's older half-sister, Ann, also found Jackie. Ann wasn't married at the time, living in San Francisco. Lee described both Ann and Don as "nice folks," and it being "just easy to take them into our family."
1993 Laci graduated from high school
Sharon testified that Laci graduated from high school in 1993.
Aug 1993 Laci & Scott at Cal Poly
Laci entered Cal Poly in August 1993. The semester Scott entered Cal Poly isn't clear. He transferred from Cuesta Community College about the time he and Lee began a joint venture, Central Coast Crating. They each invested $3500, bought some tools, and started making sales calls. Eventually, Scott bought out Lee's share, and then sold the company to invest in The Shack.
To pay his way through Cal Poly, Scott worked 18 hour days to combine school and work. In addition to Central Coast Crating, Scott was working at Pacific Cafe and also had a job at a golf club, cleaning up and locking up.
1993-1994 Laci's relationship with Kent Gaines
Laci lived for a period of time with Kent Gaines, a high school sweetheart. Some have described the relationship as abusive to Laci. Gaines' name was given to MPD as a possible suspect, but he was incarcerated at the time for violence towards another girlfriend.
July 1994 The first date
Scott and Laci met at Pacific Cafe, a Morro Bay restaurant where Scott waited tables. Their first date was a fishing trip, during which she became seasick. Within a month, Scott and Laci were living together.
Laci was the first girlfriend Scott introduced to his family. Susan's family and Joe's family were visiting Lee and Jackie at Morro Bay, and they drove down to San Luis Obispo to have dinner at the restaurant with Scott and Laci. Lee described Laci as "shy" at this meeting, probably overwhelmed by the number of Scott's family participating.
Dec 1994 Their Engagement
According to Sharon's trial testimony, Scott and Laci were engaged in December 1994. Scott and Laci spent a lot of time with his family, as his parents were still living in Morro Bay, just ten miles away. They would take their laundry to the Petersons, and Laci would plant flower gardens for Jackie. These are two of the engagement pictures.


1995 Scott told Miguel Espidia how he would dispose of a body
Brocchini testified that Espidia called the police tip line on April 19, 2003, the day after Scott was arrested. He said he had known Scott and Laci Peterson since 1995. He went to college with Scott at San Luis Obispo. He knew them after Laci and Scott Peterson got married. He played racquetball with them two or three times a week. He called and said he had a conversation with Scott Peterson in 1995 where Peterson told him how he could get rid of a body if he killed somebody. He said that he would tie a bag around the neck with duct tape, put weights on the hands, throw it in the sea and the fish activity would eventually eat -- the body would float up, the fish activity would eat away from the head and the hands and the body would float up, no fingers, no feet, so there could be no identification.
9 Aug 1997 The Wedding Day
Scott and Laci were married at the Sycamore Mineral Springs Resort near San Luis Obispo, California. Dennis Rocha was late for the wedding because of work. Some sources say Laci's paternal grandfather walked her down the aisle, and others that Laci and Scott waited for Dennis to arrive. Some of Laci's friends and a family insider reported to the media that Scott was abusive to Laci and was a womanizer from the beginning of their marriage.






Dec 1997 Laci graduated from Cal Poly
Sharon testified that Laci graduated from Cal Poly in Dec 1997.
Jan or Feb 1998 Laci lived in Prunedale, Scott's first infidelity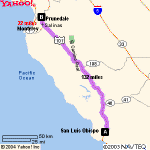 Sharon testified that Laci moved to Prunedale and took a job in the Monterey area in Jan or Feb 1998. Scott remained in San Luis Obispo as he had not yet graduated from Cal Poly. This map shows the location of San Luis Obispo, Prunedale, and Monterey, and the distances between each (click to enlarge)
KOVR-13's Gloria Gomez reported that Scott's first infidelity happened shortly after their marriage back in 1997. Laci was living in Prunedale, working as a wine distributor and Scott was staying with a roommate in San Luis Obispo. Laci found out about the affair after making a surprise visit. That night, Laci ignored Scott during a dinner date with another couple. Laci never told anyone about the incident and it was never mentioned again.
According to Scott's and Laci's credit report and residence history, Laci lived in Salinas, not in Prunedale.
According to ModBee, a source close to Laci Peterson said Laci told the source she was concerned Scott had been unfaithful in 1998, shortly after their marriage. "She implied that Scott had not been faithful," the source said. "She never actually admitted the extent of the affair." After the Frey relationship surfaced, the source confronted Scott about the earlier affair. "He confirmed it," the source said. "He came straight out and told me."
Documents filed by the DA indicate the Prosecution will admit this first affair as evidence against Scott during the Trial. One of Brocchini's reports leaked to the media July 20, '04 indicates he knew about the relationship and talked with the other woman:
I asked Janet about her intimate relationship, Janet said, 'He had issues.' I asked what Janet was talking about and Janet said Peterson did some weird things at a bar after they broke up. Janet said it was only second hand information from Peterson's roommates, however, Janet heard Peterson got real drunk and began exposing his penis at a bar. Janet said Peterson was very self-conscious about the size of his penis, and whether he could please a woman.
However, no witnesses were called by the Prosecution at the Trial to document this affair.
Jun 1998 Scott graduated from Cal Poly
Sharon testified that Scott graduated from Cal Poly in June 1998.
1998 - 2000 The Shack
Scott sold Central Cost Crating and purchased the Shack, a restaurant in San Luis Obispo which became a popular hamburger joint.
5 Jan 1999 Laci's Grandmother died in Modesto
Laci's paternal grandmother, Helen Rocha, died on 5 Jan 1999. Helen's husband, Laci's paternal grandfather, was having serious health problems, which prompted Laci and Scott to move back to Modesto.
Jun 2000 Scott and Laci moved to Modesto
Scott and Laci moved to Modesto in June 2000, according to Sharon's testimony at the trial. They lived with Sharon and Ron for a few weeks before moving into their own place on Scott Ave on 1 Jul. Scott took a job with Trade Corps, a Spain-based fertilizer company, and his 2002 annual salary was $66K.
After the move to Modesto, Laci and Scott spent Easter and Thanksgiving with the Petersons, plus the week at Carmel the week before Christmas. Lee and at least one of the sons would meet Scott at Lone Pine for pheasant hunting, and once or twice a year Lee, Joe, and Scott would go to Mammoth Lakes, hike to one of the higher elevation lakes and trout fish. On average, Scott spent time with his family 10-12 times a year.
4 Oct 2000 The new home on Covena
The couple bought a modest home at 523 Covena in Modesto for $177,000, and escrow closed on 4 Oct 2000. Lee and Jackie Peterson each gave the couple a gift of $15K to help cover the down payment. Terri Western handled the purchase. They refinanced the home in February 2002, to add the pool and make other improvements. Friends said Scott spent many hours working on the fixer-upper.
Laci obtained a substitute teaching certificate that allowed her to teach in any Stanislaus county school, any class from pre-school through high school. Sharon said Laci taught almost every day.




Winter 2001 - 2002 Scott went fishing with Ron Grantski
Ron testified at the trial that sometime during November - December 2001 or sometime between February - March 2002, Scott accepted his invitation to go fishing at Lake Almador. Ron knew it was in the winter months because it's too hot at Lake Almador in the summer. He said Scott had a 6-ball bearing reel, compared to his own 2-ball bearing reel, and the more ball bearings, the more expensive the reel. He said at the end of the trip, Scott left his reel in Ron's garage. Ron reminded him about it once, but Scott said to leave it there, and it remained there until the day Ron testified. Ron said Scott never asked him to go fishing.
Apr 2002 The pool serviceman
When the pool was finished, Robert Inelio serviced it weekly on Tuesdays. The police report said he made his service calls on Monday, but on the witness stand he said Tuesdays. He said that McKenzie would start barking as soon as he pulled up to the house. He would park in the driveway if both cars were not there. Otherwise, he parked on the street. McKenzie would continue to bark at him after he gave him a doggie treat. Though McKenzie would bark like crazy, he was sedentary and not aggressive. Inelio always went in through the gate by the driveway. 80% of the time, Inelio was by himself in the backyard, but sometimes Laci or Scott would be there. If Laci was there, McKenzie would position himself by Laci. Inelio's servicing usually only took about 8 minutes, as he checked the water chemistry balances.