The Pregnancy & Affair: May-Nov 2002
6 May 2002 1st day of Laci's last menstrual cycle
Dr. Edraki testified that the May 6, the 1st day of Laci's last menstrual cycle, was used initially to establish the Feb. 10 due date, using the standard wheel calculation, which assumes ovulation occurs 2 weeks after this date.
8 Jun 2002 Laci hosted baby shower for Renee Tomlinson
Renee Tomlinson testified at trial that Laci did not mention being pregnant at the baby shower she hosted for Renee at the Covena home on June 8.
9 Jun 2002 Laci announced she's pregnant
Laci took a pregnancy test early in the morning, and by 7 a. m. was calling family and friends to announce her pregnancy. Scott worked to convert the spare bedroom into a nursery. He "put a lot of hours into making that baby room just right," family friend Guy Miligi said. "He was real excited about having his first child. He talked about that all the time." Scott and Laci decorated the baby's room in a nautical theme, with blue walls and a life preserver stenciled with the word "welcome." Neighbor Susan Medina said Scott seemed excited about the baby. In early December when she came outside to discover a flat car tire, Scott saw her and came to help. He took Medina to her appointment. He spoke by cell phone to change a business date so that he could go with Laci to an appointment. They talked about the baby, Scott said that they had the nursery almost ready.
Mid Jun 2002 Mike Feras Almasri interviewed with Scott
Almasri interviewed with Scott for the position at Trade Corps--they met at Applebee's in Fresno. He said that at the end of the interview, Scott told him he was married and had just bought a house.
End of Jun-First of Jul 2002 Scott hired Eric Olsen
Eric Olsen responded to an ad Scott put in a trade publication for a territorial salesman. He mostly worked out of his home office and was Scott's only employee. He was the rep for Southern California, Arizona, and Nevada. Eric knew Scott was married and Laci was pregnant, but he never met Laci. Eric told the police that Scott seemed happy about the pregnancy.
11 Jul 2002 Laci's 1st Pre-Natal Appointment
On Laci's first visit, she saw a Nurse and was given pre-natal instructions and scheduled for a 10-week sonogram. Her due date at this time was determined by the first day of her last menstrual cycle. In order to be seen by this clinic, the patient has to have a positive from either a home pregnancy test or physician referral. No physician referral was noted on Laci's chart, but neither was the date of Laci's home pregnancy test. Dr. Edraki explained in her testimony that knowing the date of ovulation and sexual activity is the most precise way to date the pregnancy, but that information was not recorded on Laci's chart. Laci had been trying to get pregnant and was using an ovulation calculator, calling Scott home at the appropriate times.
16 Jul 2002 Laci's 10-week sonogram
Laci's 10-week sonogram. Due date set as February 10, 2003. 10-weeks is considered the most accurate time for doing a sonogram, within 5 days. Pregnancy dated at 10w1d.
20 Aug 2002 Laci's pre-natal appointment
A routine appointment. Gestational age 15w1d. Laci told the Dr. she was concerned about pressure in her lower abdomen. She had previously had surgery on her cervix and was concerned about losing the baby. Dr. Edraki performed an ultrasound to determine if her cervix was strong enough. The exam revealed she was fine. Scott was with Laci. Edraki said Laci appeared happy about the baby, and never observed anything negative about Scott. Edraki said in her testimony that any negative feedback from the husband is always noted on the patient's chart, and no such notations were made by any of the staff on Laci's.
30 Aug 2002 Laci shopped for maternity clothes
Laci shopped for maternity clothes at Motherhood Maternity. She purchased the outfit she wore at the Dec. 14 Christmas party at Terri Western's as well as the khaki pants she was found in on April 14, '03. She also bought the black blouse that she wore to Salon Salon on the 23rd. The total of her purchase was $198.55. The red pants were not in her size, so she had the store set back the matching top and call her when the correct size pants came in.
24 Sep 2002 Laci's 20-week sonogram
Based on her last menstrual cycle and the 10-week sonogram, Laci's due date was set for February 10, 2003. The 20-week sonogram, however, indicated a due date a week later, or February 16. The doctor's records indicate Connor was 19 2/7 weeks, with a due date of February 16, and heart rate of 154. That would make Connor 32 2/7 weeks on Dec. 24. Based on Feb. 10 due date, gestational age would have been 20w1d, which was also noted on Laci's chart, and which would have made Conner 33 2/7 weeks on Dec. 24. The 20-week ultrasound has an error factor of +/- 10 days.
24 Oct 2002 Scott met Shawn Sibley
Scott and his employee, Eric Olsen, had a booth for Trade Corps at a CAPCA convention in Anaheim CA. Shawn said she was socializing with the group that Scott was among at a Monday night football social. Shawn had just met David Fernandez through a friend named Tony, David and Eric were friends, previously co-workers at Britz, and David wanted Eric to meet a single female, but Eric said he did not know who it was. David said he introduced Sharon to Eric, and then Eric introduced Shawn and Scott when Scott came up to talk to him. Shawn, Scott, Eric, and David went out for dinner at the House of Blues about 7:00 or 8:00. Shawn is a vegetarian and only hot dogs were being served at the social. On the way over to the dinner, Scott asked Shawn what he could put on his name tag to attract women to him that night. When they got to the dinner table, she wrote on it, 'I'm rich,' but said Scott didn't like that. She testified that she wrote, 'I'm rich' because Scott was talking about having two homes and being successful. Eric, David, and Shawn all testified that the dinner conversation was primarily between Scott and Shawn and on sexual topics, including preferred sex positions. Eric testified that he thought the conversation was very inappropriate for a married man and engaged woman.
Shawn stated several times that she was engaged, but Scott never acknowledged being married. In the course of the conversation, Shawn said she and her fiancÚ were soul mates. Scott said he had a soul mate once, but lost her. He also told Shawn that he became vegetarian to please a girl. She replied it was stupid to change your life style for a girl, and he replied that it was great sex. Scott told Shawn that he'd had a lot of one-night stands, but they were all bimbos with no brains, and he was looking for someone single and intelligent to have a serious relationship with. As the night wore on, Shawn thought he was sincere and told him she had a single friend who had been through a lot of bad relationships that she would introduce them if Scott was serious. Scott asked if she was intelligent, and Shawn replied that there are different levels of intelligence, but she thinks Amber is intelligent. Scott asked what she looked like, and Shawn said she thought she was pretty, but some people think she's too thin. Scott said, I like thin women.
David left, then Eric excused himself to use the restroom, and never returned. After waiting 45 minutes, Scott and Shawn went to see if the sushi place was open. They went up to her room, but could not go in because her roommate was in there. They stood in the hall and talked more until 3:30 a.m. They had both been drinking all evening. Shawn admitted, under cross, that she has known married men who were drinking to say stupid things, but never to lie about being married.
They were friends and became business associates also. Sibley worked in a business that surveyed or tested farm products. Scott began calling her on a business relationship and a personal relationship. Scott asked Sibley if she had any friends that were available, and after many conversations over the course of the next few weeks, Sibley gave Scott and Amber each other's phone number, after receiving an assurance from Scott that he wanted a serious relationship. Scott and Amber's first contact was by phone. Scott told Shawn that he was looking for woman who was smart and who wanted a more serious relationship.
25 Oct 2002 Shawn went to the Trade Corps booth to see Scott
Shawn went to the Trade Corps booth to see Scott, Eric Olsen testified. However, he did not remember that it was to give Scott Amber's phone number, as P. Harris suggested in his cross examination.
29 Oct 2002 Laci's pre-natal exam
Notation on Laci's chart that she was concerned about weight gain.
1 Nov 2002 Shawn's email to Scott
Shawn sent an email to Scott, indicating she expected him to already have contacted Amber:
Soooo- what's up? Any exciting things for this weekend? When are you going to make your date with Amber? You told me before that you'd come to Fresno anytime. are you chickening out?
Shawn testified that Scott always started their conversations and his emails with personal stuff, and so did she. Shawn told Scott that Amber had bad dating problems, and particularly of her problems with her daughter's father and Josh, who ruined her credit.
On January 17, 2003, (People's 198E, page 8) Amber told Scott about the initial conversations she had with Shawn.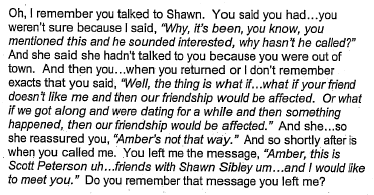 They exchanged a few voice messages before actually talking on the phone on Nov. 19.
6 Nov 2002 Laci called OB/GYN about dizziness
Laci called the Dr. and spoke to Dr. Edraki, and complained that the previous week she'd had some lighted headedness and dizziness after 20 minutes of walking. She experienced the same thing on the 6th. She told the Dr. that she always walks after breakfast. Edraki told her to not exercise, or if she did, to do it later in the day, when she was hydrated and had eaten something.
8 Nov 2002 Laci called OB/GYN about shortness of breath
On the 8th, Laci called the Dr. to report shortness of breath while taking walks, but did not complain that she had passed out or blacked out. Cheryl Smith, the nurse practitioner, took the call. Under cross examination, Geragos asked Dr. Edraki to draw the obvious conclusion that Laci had not taken her advice to stop walking.
11 Nov 2002 The housekeeper
Margarita Nava began work for Laci and Scott as their housekeeper. She went to the Covena home every two weeks to clean from about 8:30 a.m. to 2:00 p.m.
14 Nov 2002 Shawn's email to Scott
Shawn sent an email to Scott, which included these personal remarks:
How was the snow? Find any bunnies to ease your frustrations? It sure is nice to be in a regular relationship where such things are so easily resolved. Ha Ha. You missed an excellent dinner where Ayiana (Amber's daughter) was the life of the party. Eight adults standing around laughing at the kid (little niko is still to small to be much fun-he's only 3 mo old). The twenty year old boys were also entertained trying to figure out Ayiana's magic picture book. I still think of them as boys even though they really are grown men now-makes me feel old. Speaking of old- how is life at 30? Anyhow I hope I really do get to babysit next week - Ayiana is so fun (most of the time).

See ya later H.B.

S
In her testimony, Shawn said she had invited him to dinner, and he said he was going skiing at Mammoth instead, he was looking for some snow bunnies up there. The date of the email was not given in her testimony, but was identified from the exhibit. Mammoth is 300 miles one way from Sacramento, where Shawn thought Scott lived. Shawn signed her email, 'See you later H.B.' and explained to the court that H.B. stood for horney bastard, a nickname Scott had given himself. Shawn said he told her he was thinking about putting that on his business cards, but she thought it was not a good idea as most of the people in his business are men and they might get the wrong impression, thinking he was hitting on them. D. Harris did not present an email in which Scott himself used the nickname.
19 Nov 2002 First call between Amber and Scott
First documented contact between Amber and Scott. Some phone charts show that she called him three times: at 4:24, 4:27, and 10:00. However, Distaso said in his Opening Statement that Scott called Amber each of these three times, and Amber testified that Scott called her. Amber Dawn Frey, born Feb. 10, 1975, in Los Angeles. Her parents, Ron and Brenda, divorced when she was 5.
21 Nov 2002 Laci's redesigned wedding ring
Date unknown, Laci and her aunt Robin Rocha compiled a list of all the jewelry Laci was to inherit from her Grandmother, Robin's mother. The jewelry and the list were placed in a safe deposit box at the West America Bank in Oakdale. Sometime in late November, Robin and Laci met at the bank and Laci was given the jewelry. Some testimony suggests that Amy and Laci co-inherited the jewelry, appraised at $100K or more. However, other testimony suggests Laci was the principal heir and she shared with Amy. The most noteworthy piece was the Grandmother's wedding ring, which had a 2.5 karat diamond center stone, as well as other diamonds, valued at $45K. On 21 November, Laci brought her wedding ring and her Grandmother's ring to a jeweler in Modesto to have the stones combined into one ring, using the gold from her own ring. The finished ring was valued at about $55K. She wanted to have the ring completed by Christmas Eve, but the jeweler was unable to comply because she changed her mind too many times. The ring was still at the jewelers when Laci disappeared. The jeweler called the police to tell them about the ring, and then gave the ring to Sharon Rocha on January 4. Sandy Rickard's signature is also on the receipt. Scott never called to ask about the ring.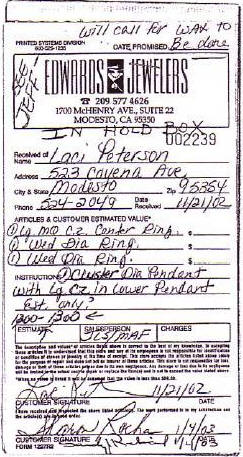 20 Nov 2002 The affair with Amber
Scott met Amber at the World Sports Cafe in Fresno. They spent the night at the Radisson hotel, with Scott returning to Modesto on the 21st. Shawn Sibley babysat for Amber that night, and had to call Amber in the morning to come and get her daughter so she could go to work. Some reports characterize Amber as smitten from the start with her new beau, parading him around her friends saying he could be "the guy." Amber testified that she allowed Scott to pick up her 2-year-old daughter from day care, gave him the key to her apartment, and started bringing him to family functions. Some sources report that Scott talked of marriage. Frey's friends say she is haunted by the fact she had a trusting relationship with an adulterous man facing a possible death sentence for the murder of his wife and unborn child.
It was on this first date that Scott told Amber about the fishing/hunting trip to Alaska for Thanksgiving, the Maine trip over the Christmas holidays, followed by a trip to Europe. On Jan 7, 2003, he said he told her that lie because he couldn't be with her during the holidays.
20 Nov 2002 Laci watched the Bachelor with friends
Laci spent the evening at Lori Ellsworth's house watching the Bachelor with friends.
Late Nov 2002 Scott met with Cory Carroll
According to Carroll, he and Scott met at the City Lights strip club in Fresno. When Scott found out Carroll had a criminal record, he asked him if he knew of someone who would steal Laci's car so Scott could fraudulently collect on the insurance. Carroll says Scott gave him his phone number. He also says that Scott paid to have his picture taken with one of the bar waitresses, Tammy, but she kept the picture. Carroll says he and Scott had several phone conversations after this first meeting.
24 Nov 2002 Sharon & Ron have dinner at Laci's
In her trial testimony, Sharon said that Laci told her Scott had joined Del Rio country club when Sharon had dinner at her house on Nov. 24. She did not specifically mention that Ron was also present.
25 Nov 2002 Laci's Pre-natal exam
Laci estimated to be at 28 weeks. Examined by Dr. Tow-Der. Her only complaints were swelling of hands and feet.
26 Nov 2002 Disneyland
Scott and Laci spent the day together at Disneyland. Sharon testified that Laci told her she didn't want to go, her feet were swelling, and it was not going to be much fun for her. She did go, and they rented a wheelchair.
27 Nov 2002 Peterson Baby Shower
The Peterson family had a baby shower for Laci while Scott and Laci were visiting in San Diego. Jackie Peterson said she and her family bought almost everything in the baby's room, including crib, rocking chair, clothes and toys as shower presents. Sharon Rocha purchased the crib bedding.
28 Nov 2002 Thanksgiving
Scott and Laci celebrated Thanksgiving with Scott's family. Scott told Amber he went on an Alaskan fishing trip with his brother over Thanksgiving. She asked him to confirm the truthfulness of that in the Jan 7, 2003 taped phone conversation. (People's 195T, pp 10-11)

29 Nov 2002 Dirty & Skeeter
Scott and Laci left San Diego about noon for the 8 hour drive to Modesto. According to Cory Carroll, Scott met him at 12:30 p.m. at Chili's Bar & Grill in Fresno restaurant, where Carroll introduced him to Dirty and Skeeter, two members of the neo-Nazi gang, the Nazi Low Riders. The four men then went to the Best Budget Motel where Carroll had a room rented. Carroll left the room when he realized Scott was talking about kidnapping Laci, not stealing her car, and was gone for about 45 minutes. When he returned, he heard Dirty and Skeeter confirm to Scott that they would "take care of it." Carroll says Scott offered Dirty and Skeeter $3000 each to kidnap Laci, and $8000 each to kill her. Dirty and Skeeter drove a "beige van with orange and brown stripes on the side and a place in the back near the bumper for a generator to sit," Carroll said. Dirty and Skeeter are described as white and 5-foot-10 and 5-foot-8.
30 Nov 2002 Laci at the Jewelers
Laci was at the jewelers examining jewelry and selecting a style for the ring she was having made by combining her wedding rings with some diamonds from her grandmother's rings. Laci told Felix that she and Scott were going to Monterey, that Scott loved ocean fishing at Monterey and also fishing in the Delta. She said Scott had worked for a law firm in Monterey. Laci also told Felix that Scott was the one who wanted the jewelry appraised, and that he would be happy to learn that it was worth at least $100K. Felix was asked about other pieces of jewelry that Laci inherited from her Grandmother. One in particular, a pendant, Felix said Laci would not leave to be cleaned because she didn't want to lose it. Felix said she wore it each of the 10-12 times she saw Laci. Another piece was a blue sapphire ring, which had a missing stone. The jewelers replaced the stone and Laci wore that ring in place of her wedding ring while waiting for the redesigned ring to be completed. She also received a diamond Geneva dress watch, and a Croton watch that was also a dress watch. The croton watch is shown as advertised on eBay.