8:30 a.m. Scott at the warehouse
Ron Prater told Detective Brocchini, on Dec. 28, that Scott was already at the warehouse by 8:30 a.m.
8:30 a.m. The housekeeper
Margarita Nava arrived at 8:30 am. Laci was dressed and the blinds were closed. Scott was not at home when she arrived. Nava performed her usual cleaning routine for Laci. She first dusted, then cleaned the bathrooms (using Clorox and Pine Sol), the bedrooms, the hallway, the dining room, the living room, then the kitchen. She used Pine Sol on the floors. After mopping, she put the mop outside by the door (by the washer) to dry out. She put the rags she used to clean inside the bucket and put the bucket on top of the washing machine. While Nava was there, Laci went shopping. She returned with 4 bags of groceries, which she carried into the kitchen herself. (she said 5 bags in her Prelim testimony) Nava said Laci was wearing a white long-sleeved shirt and black stretch maternity pants. She also knew about the dog bed in the bedroom and the water dish in the bathroom. She left at 2:30 pm. Nava was later interviewed by Detective Brocchini.
9:26 a.m. Private mailbox
Scott rented a private mail box at Mailboxes Etc., now called The UPS Store, in The Shops at Lincoln Square shopping center near downtown Modesto. Rumors circulated that the mailbox may be associated with an alleged drug connection, which never has been proven. At the trial, various testimony indicates Scott received a letter from Amber at this PO Box as well as business mail. The Defense claimed it was primarily setup to receive business mail because of the break-ins in the cluster mailboxes used by the Industrial complex Trade Corps rented from. Interestingly, the time stamped on the cash register receipt is 9:26 am, whereas the time stamped on the credit card receipt is 9:20 am.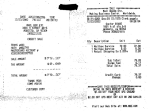 9:27-9:42 a.m. Scott on the work computer
Wall testified that someone was on Scott's work computer from 9:27 till 9:42 the morning of the 23rd. Scott's employees worked out of Fresno, not the Modesto warehouse.
10:00 a.m. Scott returned home to pick up a FedEx delivery
Margarita Nava testified at the trial that Scott returned home about 10 am to get a Fed Ex envelope. Nava said she did not see Scott watch TV while he was there, and did not recall hearing anyone talk about meringue.
10:08 am.m Shopping at Trader Joe's
Laci shopped at Trader Joe's, checking out with 23 items at 10:08 am. Total purchase was $98.19. During the cross examination of the store manager, Geragos asked if his store was open the next day, Christmas Eve, and if it would have received a delivery of Challah bread, a Jewish bread used in many recipes for French toast.
I was at Trader Joe's on July 1, 2004 at 9 a.m. These pictures are of the Challah bread, the only loaf left on the shelves. The clerk said this is a very popular bread and always sells out by mid-morning. Click the images to enlarge.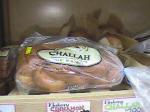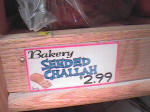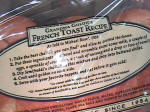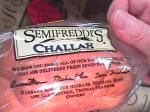 12:30-12:45 p.m. Sweet Serenity Day Spa Facial
Laci had a 1 pm appointment at the Sweet Serenity Day Spa, but she arrived between 12:30 and 12:45. Laci's facial waxing treatment lasted 15-20 minutes. The manicurist Tina Reinsert testified that Laci said she was tired, and Laci wasn't herself that day. Laci was wearing black Capri pants, a white long sleeve pullover shirt, black Mary Jane shoes, and a silver-gold watch. However, Michelle Buer, the owner of Sweet Serenity, thought Laci's shirt was a collared, button-down, and she wasn't sure whether Laci had on Capri pants or a skirt. Buer testified that Laci was a rare pregnant woman, very happy through the whole pregnancy and had never said anything negative about Scott. Buer told Grogan on March 19 that Laci said she was uncomfortable and having trouble sleeping. Buer was interviewed by Brocchini on January 17 and by Grogan on March 19.
2:35 p.m. Laci's last prenatal exam
Laci had a routine prenatal exam with her OB/GYN, Dr. Tow. Dr. Tow told Detective Phil Owens that Conner's heartbeat was strong and approximately 150, and was a viable baby, and that if the baby were born that day, with some assistance, they wouldn't stop the delivery and the baby would be born viable. Dr. Tow also said that Laci's attitude was pleasant and she smiled a lot. When interviewed by Detective Owen, the nurse practitioner Cheryl Smith said that Laci's doctor had observed no difficulty with Scott, no indication that Scott was a problem in the pregnancy. There also was no notation in the file for this visit of any continued problem with the shortness of breath Laci reported on the 6th and 8th of November.
Sharon Rocha testified that after the prenatal exam, Scott and Laci planned to go to the hospital to pre-register.
4:45 p.m. Stacy Boyers talked with Laci
Laci called Stacy Boyers to wish her a merry Christmas. Stacy said: "She was happy as ever, I mean, ready for Christmas and cheerful."
5:25 p.m. Amy purchased gift basket at Vella Farms
Amy purchased the gift basket for their Grandpa Rocha at the Vella Farms. She had called Laci from Vella Farms to get ideas for the basket. Laci and Amy had already made arrangements earlier that day for Amy to cut Scott's hair.
5:45 p.m. The haircut at Amy's Salon
Laci went with Scott to Salon Salon at McHenry Village for a haircut. Amy had not yet returned from Vella Farms. Scott said he had a golf tee time for the next day. Amy mentioned needing to pick up the gift basket from Vella Farms the next day between Noon and 3 pm. Scott volunteered to pick it up for her, since he would be golfing. The Vella Farms is near the Del Rio golf course. Laci and Scott left the shop about 7:00. Laci had on cream colored Capri-length maternity pants made of a stretchy cotton material. She had a black blouse with either small cream polka dots or cream flowers. She had a black jacket, a cream scarf and black Mary Jane shoes. Amy planned to have brunch at Laci's on Christmas Day, with other family members. While at the Salon, Scott asked Laci to order pizza, and she used the Salon phone to do so. Scott asked Amy to join them that night for pizza, but Amy declined because she had a friend in from out of town. Before Amy cut Scott's hair, she showed Laci how to do the fun flip with the blow dryer.
8:30 p.m. Laci's phone call to Sharon
After playing phone tag throughout the day, at 8:30 pm Laci called her mother. Sharon was on another call at the time, so the conversation was brief, only about a minute or so. Laci called to confirm that they would be going to Sharon's on Christmas Eve for dinner. There was no mention of Scott going fishing or of any other activity they were going to do the next day. Sharon set the time for Scott and Laci to go over at 6:00 pm. and did not think it unusual for Laci not to have mentioned Scott was going fishing. Laci told Sharon she was very tired, but didn't talk about any problems, except to mention that she hadn't purchased Christmas gifts for all of Sharon's guests. No definitive explanation has been given for why Laci waited so long before accepting Sharon's dinner invitation. Suggestions were made by the Defense that it was because Laci was having a personal conflict with one of Sharon's guests. The only guests identified by Sharon, other than Scott and Laci, were Ron's mother and sister. Brent and his family were not attending, and neither was Amy.
8:30 p.m. Amber home alone with her daughter
According to information she gave MPD, Amber spent the night of the 23rd home with her toddler daughter. Amber's only alibi from 8:30 p.m. on the 23rd to 2:30 p.m. on the 24th is her daughter.
During the night Police Theory on Laci's Murder
Stories circulated that the Police believed Scott drugged Laci with the date rape drug, GHB, and then strangled her in their home, sometime during the night of the 23rd-24th. Another "police insider" report claimed Laci was "beaten to death with blows hard enough to make her throw-up," after Laci dressed for bed on the 23rd. The popular 2-trip theory alleges that Scott brought Laci's dead body to the Bay during the night, docking at the Richmond Marina, and then motoring into the shipping channel.