End of Nov-Beg of Dec 2002 Eric noticed cement in the warehouse
Eric testified that he was in the warehouse at the end of November or beginning of December, but the boat was not there. He noted a partial bag of cement, and P Harris showed him the picture of several old worn-in cement patches on the flatbed trailer, and asked if it looked like someone had been doing cement work on the trailer prior to the date he was there. Eric declined to draw that conclusion.
Very first part of Dec 2002 Laci started walking again
Kristen Reed told Brocchini that Laci said she had stopped walking because of dizzy spells, but wanted to start again because she was concerned about how much weight she had gained.
1 Dec 2002 The country club membership
Scott was notified by the Del Rio Country Club that they accepted his membership application. This purchase, and other recent expenditures seemingly beyond his financial means, raised suspicion after Laci's disappearance that Scott was involved in the illegal drug trade, specifically in the black market sale of the fertilizer compound, anhydrous ammonia, used in the manufacture of met amphetamine, a widely used stimulant that causes euphoria. The high-nitrogen fertilizer costs about $2 a gallon when used for legal farm purposes, but on the black market is worth about $60-$200 a gallon. The SDEA conducted an investigation, including attaching GPS tracking devices to Scott's vehicles. The psychic Lady Lee suggests Laci's murder resulted from this drug connection, but Scott is not the murderer.
Lee Peterson testified that Jackie gave the one-time membership fee as a gift to Scott and Laci. Other testimony indicates Scott was paying the monthly fee.
2 Dec 2002 Shawn called Eric about Scott
Eric testified that Shawn called him on 2 December to ask if Scott was married. He said she told him she wanted to set Scott up with one of her friends. He told Shawn she would have to ask Scott, that he didn't want to get in the middle of his personal life.
2-4 Dec 2002 Scott spent time with Amber
Scott spent Monday through Wednesday with Amber and her daughter in Fresno, attending to business during the day, and staying overnight at Amber's. It was during this visit that Amber gave him the key to her apartment and had him pickup Ayianna, her 2-year old, at the day care and take her back to the apartment with him.
Dec 2002 Laci's daily routine
Laci stopped working as a substitute teacher in December to get ready for the mid-February birth. She watched "Martha Stewart Living" in the mornings and waved to her neighbors as she walked MacKenzie to the hilly, wooded park just a block away.
2002 Laci's neighborhood activism
According to Geragos' OS, Laci was constantly confronting transients about their activity in the park. A neighbor down the street saw her break up 2 women fighting in the street. A Superior Court Judge, who lives around the corner from Laci, advised her to leave the transients alone, it was not safe, but she would have nothing to do with that. She was active in Neighborhood Watch, and also involved with the Encina project and did a traffic study involving taking some video.
6 Dec 2002 Shawn Sibley discovered Scott is married
On December 6, Shawn, Almasri, and other co-workers were sitting around talking about looking for jobs. Someone mentioned Scott, and Almasri said he had met a Scott Peterson with Trade Corps from Modesto that was married. Shawn testified that she "freaked." She went outside and called Scott and said, "hey I heard you are married and, you know, what in the hell is up with this?" Shawn testified that Scott denied it, and she said that if she found out he was lying, she'd kick the shit out of him. Shawn then looked for Eric's business card from the conference and called him, but said he did not give her any information. Shawn purchased an online investigative kit for $30 to search marriage records by county to see if Scott was married. She started with Sacramento, because Scott told her he owned a home there. She received negative results and was about to do Modesto when Scott called Shawn back, but the call went into voice mail. Shawn said he was sobbing and said, 'I'm sorry I lied to you earlier. I had been married. It's just too painful for me to talk about. Call me back.' Shawn called Scott back but got his voice mail; she left her home number for him to call. Scott called her at home, and they had this conversation, during which, Shawn testified, Scott was sobbing hysterically:
Scott: I'm so sorry I lied to you earlier. I had been married. I lost my wife. It's too painful for me to talk about. Please just give me the opportunity to tell Amber in person. I'm going to be in town on Monday. Please don't tell her. This wasn't -- just please let me have the chance to tell her myself.
Shawn: Scott, I don't care if you are widowed, or you are divorced. All I care about is are you currently married right now?
Scott: No, absolutely not.
In another retelling, Shawn said Scot told her that he tells some people he's married, and he tells some people he's not married, Shawn agreed to let him tell Amber, but if hadn't done so by Monday, she was going to tell Amber, or if Amber asked, she was not going to lie to her. She also told Scott to call her and tell her when she told Amber.
7-8 Dec 2002 Scott went sailing in SF Bay with friends
When Scott met with Amber on the 9th, he told her he had been sailing the weekend before with Greg Rogue and friends in the SF Bay. He told her he didn't have a good time because he was upset about lying to her about not being married. Amber asked about the sailing in the Jan 7 taped phone call (People's 195T, p 6).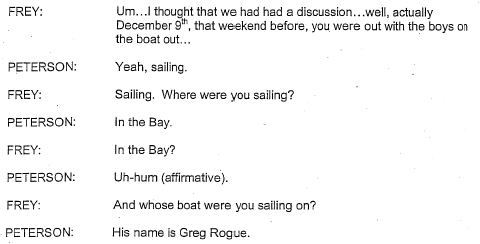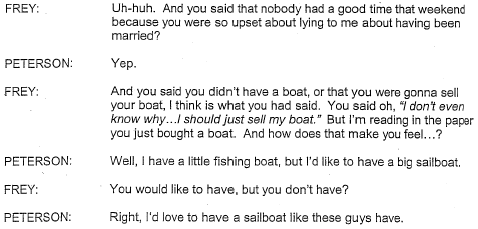 8 Dec 2002 Scott researched the SF Bay
Scott's computer contained graphics from the US Geological Survey website showing the central San Francisco Bay--a velocity chart of either wind currents or water currents (Computer forensic investigator Stockham wasn't sure which they were). Scott also accessed the Captain Hook Sportfishing website, and the pages he viewed included information about sturgeon fishing and the Suisun Bay. Stockham did not know if the US Geological Survey website was linked on the Captain Hook site. According to Distaso in his Opening Statements, Scott accessed the SFPorts San Francisco Central Bay tides and currents website at 10:00. http://sfports.wr.usgs.gov/SFPORTS/vec_map/centbay.html He also looked up boat launch information, some in Watsonville, some in other areas, various places where you can launch a boat in the Bay. The only time he looked up fishing information on his computer is on Dec. 8. He also looked in the Fresno Bee for ads on boats for sale.
8 Dec 2002 Amber talked to Richard Byrd for a total of 1 hour 12 minutes
Richard Byrd was a detective for the Fresno police.
9 Dec 2002 Scott told Eric he shouldn't have met Shawn
Eric told Brocchini on Jan 6 and then testified that Scott called him on the 9th and told him he shouldn't have met Shawn, that was a stupid thing.
9 Dec 2002 The boat
A little after 10 a.m., Scott purchased a Sears Gamefisher 14-foot aluminum boat, equipped with a 15-horsepower outboard motor for $1,400 cash from Bruce and Christine Peterson. Scott saw the boat advertised in the paper on the 8th and, after seeing it, asked Bruce to hold it for him till the next day after the bank opened. Bruce kept the two anchors because he planned to buy another boat. Bruce required cash payment for the boat. This was the 4th boat Scott owned.
Laci's family says what they find strange is that he never told Laci about the boat. And he told them later that he was saving the boat as a surprise for Christmas Day. Bruce Peterson says Scott never mentioned anything about the boat being a surprise. And, in his opening statement at the Trial, Geragos said Laci saw the boat on December 20, so it was no surprise to her. He also said the surprise was for Ron Grantski, they were going to tell him about the boat at the Christmas Morning brunch.
Bruce sold the boat with: 2 life jackets, 2 seat cushions, 1 oar, 1 six-gallon gas tank, a battery, a fish finder, a small trolling motor, a tan-colored boat cover, 2 spare tires--one in the boat, one attached to the trailer--and auxiliary wheels attached to the back of the boat. Bruce said he had never taken the boat in seawater and the last time he used it was in September. Bruce Peterson did not sell Scott the anchors because he planned to buy another boat.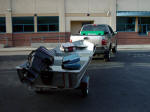 9 Dec 2002 Scott told Amber he lost his wife
Scott and Amber exchanged 6 calls. Scott went to Amber's home north of Fresno to tell her about his marriage. Amber said Scott showed visible emotion and explained to her that he had lied to her about having been married. He'd been married in the past, and this was going to be his first holiday without his wife. He said he had "lost of her." Amber did not ask for details of what "lost" meant. Her understanding was it could have been a car wreck. They were sitting very close together, holding hands. Amber could see the tears in his eyes and going down his cheeks, and hear his stomach making noises. She comforted him, and then he resumed his normal demeanor shortly after that.
Amber asked Scott where he lived, and he said Sacramento. She asked him if he also had a home in Modesto, and he said No.
This same time, Scott told Amber repeated plans for the holidays. He said he would be leaving on the 23rd to go duck hunting with his family in Maine. Between the 9th and the 23rd, he was going to be doing a lot of traveling, in Arizona and Sacramento and other places, and he would stop in and see her when he could. From the 23rd to the 28th out of State, and then from the 28th to the end of January he would be in Europe. When he returned, they would resume their relationship.
9 Dec 2002 Scott reported back to Shawn
About 2:30-3:00 in the afternoon, Scott called Shawn on her cell phone to tell her Amber knew everything, except that Shawn had found out. Scott asked her not to tell Amber she knew. Shawn said she wouldn't unless Amber asked her, she wouldn't lie to Amber. Scott said he couldn't believe how great Amber was. That she chose to forgive him. And she was just an excellent person, and so understanding. In another retelling, Shawn said she immediately called Amber and Amber confirmed what Scott had said.
10 Dec 2002 Scott befriended Susan Medina
About 7:30-7:45 a.m., Susan Medina went out to leave in her car, and noticed that her tire was flat. Scott was out near his pickup and saw her and asked if she needed help. She declined his offer to bring the tire to the gas station to air it up, because she had an 8:00 appointment. So Scott drove her to her appointment.
10 Dec 2002 Laci sold some of her Grandmother's jewelry
Laci sold a gold chain she inherited from her Grandmother at Brooks Pawn & Jewelry in Modesto, for $140. To sell jewelry at a pawnshop, the seller must provide picture identification and take a thumbprint. The sale is recorded in triplicate, and two copies are sent to the Modesto Police Department. From Amy's testimony, it appears that Laci was sharing the proceeds of these sales with her.
11 Dec 2002 Scott attended a birthday party with Amber
Scott, Amber, and her daughter attended a birthday party for Shawn Sibley's fiancé, Tom. They made plans for Amber's formal Christmas party on the 14th, and Scott rented a tux at the Fashion Faire Mall in Fresno.
13 Dec 2002 Laci picked up the diamond watch from the jewelers
Laci had brought the diamond watch she inherited from her Grandmother Rocha to the jewelers to be repaired, as it was losing time. She picked it up on the 13th, and the repair cost $63. This is the watch she had on in several of the pictures shown during the trial, and which was on her dresser with her other jewelry on the night of Dec. 24. The jeweler said Laci had her fingernails painted red in preparation for the Christmas party the next night. As Laci walked away, she sensed that Felix was watching her and turned around. Felix told her she was starting to waddle. Laci was laughing. Felix told her she looked cute pregnant, and Laci said, 'yea, right.'
13 Dec 2002 Shawn told Amber she was suspicious of Scott
During her testimony, D Harris asked Shawn if she was suspicious of Scott, and she said, "a lot suspicious." He asked if Shawn ever told Amber that, and Shawn replied that the "following Friday," she had a massage from Amber and Amber asked her about it, but she was not able to say what Amber asked because of Geragos' hearsay objection. She then said she did tell Amber about her suspicions. Under cross, she said she told Amber what she knew on the 6th. She told her about the computer search and that she was still suspicious, but Amber did not ask for the results of the search. She said she did not hire a PI, and did not know if Amber did.
14 Dec 2002 Laci sold more of her Grandmother's jewelry
Laci sold a few more items of her Grandmother's jewelry--a ring, a charm, and some gold chain. She did not have her ID on her, but Scott was with her and used his ID and thumbprint. The sale price was $110. Laci told Victoria Brooks, co-owner of Brooks Pawn & Jewelry, that she was cleaning out her jewelry box and she had inherited the items from her Grandmother. Victoria testified that they follow the same process whether the items are sold to them or pawned. Brooks also testified that Laci appeared agitated with Scott because he was rubbing her belly.
14 Dec 2002 The Christmas parties
Scott and Amber attended a Christmas party at the World Sports Bar in Fresno. The pictures taken at this party would become the evidence of Scott's affair and would be published in several national magazines. Scott spent the night at Amber's and they talked about a lot of things. Amber told Scott she was a single mom looking for a serious relationship, and she wanted more kids. Scott said he didn't want any children, her child was enough for him. He said he was thinking about getting a vasectomy. Amber replied that he was only 30 years old, kind of young for that. No, Scott said, I don't want any children, and your child will be enough for me. Brocchini testified that Amber, when she called the police tip line on Dec 30, said this was the last time she physically saw Scott.
The same night, Laci attended a Christmas party hosted by Terri Western and Stacey Boyers. She spent most of the night sitting in a rocking chair, as she was having a difficult time getting around. She was only there about an hour and a half. Laci had told Sharon Scott couldn't be there because he had to go to San Francisco to meet with someone from his company. Sharon asked if it couldn't wait until Monday, and Laci said No, that's when that person would be in San Francisco. Lori Ellsworth testified that Laci told her she was excited about the baby but very tired. Lori said she stayed inside talking to people, and sat down for awhile.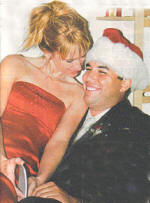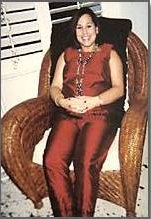 14 Dec 2002 Subpoenaed phone records
Investigators obtained phone records that indicate Amber called Scott an average of twice a day from Dec.14-23. KTVU reported that investigators obtained these phone records to determine if Amber called Scott at his home in the days just before Laci's disappearance. The first attempt to get a search warrant for the phone records appears to be Jan.22, 2003, 3 weeks after Amber began cooperating with the investigation.
15 Dec 2002 Amber gave Scott a card and a picture
When Scott said goodbye to Amber, at 12:15, she gave him a card with a picture of her an Ayianna. Scott mailed both back to Amber on Jan. 10.
15 Dec 2002 Sharon's Last dinner with Laci
Scott returned from Fresno and Ron and Sharon had dinner with him and Laci at the Covena home. This was the last time Sharon saw Laci alive. Much of the conversation was about fishing, as Ron told them Sharon had gone fishing with him just that morning--it wasn't the first time she had gone, but was a rare occasion. Though Scott knew Ron is an avid fisherman and would love to have chatted about the boat, Scott never mentioned the boat that night. Ron said in his trial testimony that he mentioned to Scott and Laci that he would like to have a boat, as all he had was a float-tube, a big rubber ring which you get into and use fins to kick out in the water, a wet suit and waders. He said he has 8-10 fishing rods, has some heavy gear for ocean salt-water fishing, but most of his fishing was in fresh water.
This picture is not of Grantski, but it shows a float-tube like the one Grantski uses.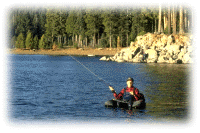 Laci did not seem upset or to know about the affair. Sharon said that Laci let her feel Conner kicking. Sharon also said Laci had volunteered to start sleeping on the couch because she wasn't sleeping well and didn't want to keep Scott awake. Scott said no to that idea.
Ron asked Sharon why they were all starting to get together, he thought it kind of strange. Sharon said Laci told her Scott wanted them to spend more time together because of the baby.
16 Dec 2002 Amber started taping phone calls
During the Preliminary Hearing, McAllister suggested in his cross examination of Detective Brocchini, that Amber started taping her conversations with Scott on the 16th, not on the 30th after she went to the police. Brocchini denied any knowledge of such taping. When Amber talked with the MPD on December 30, the produced a voice mail from Scott for December 16, as evidence that she was involved with him.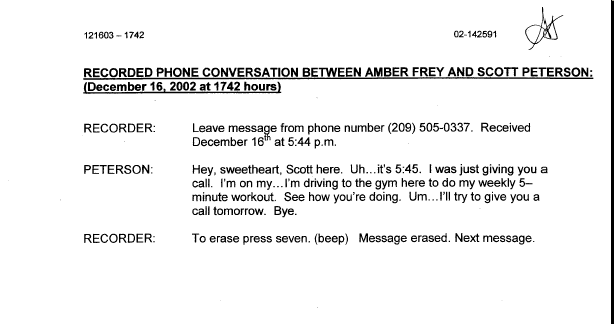 16 Dec 2002 Laci picked up a tennis bracelet from the jewelers
Laci had left a tennis bracelet, one of the items she inherited from her Grandmother, at the jewelers for repair, and picked it up on Dec. 16.
16 Dec 2002 Sharon talked to Laci on the phone
Sharon and Laci talked on the phone. Laci told her about the trip to Carmel and asked her to feed the animals and to walk McKenzie while she and Scott were away.
16-19 Dec 2002 Trip to Carmel
Scott and Laci went to Carmel with Scott's parents, which was a yearly tradition. During this trip, they discussed getting rid of Laci's car and getting a safer one. Lee said, "you never saw a more loving couple." During this trip, Laci wore two different pair of khaki pants. Even on this trip, Scott exchanged 5 calls with Amber on the 16th, and 4 on the 17th.
18 Dec 2002 Woman raped by Satanic cult
A rape crisis counselor told investigators about a woman who said she was attacked in the area a week before Laci's disappearance. The woman said she had been attacked on Dec.18, by men carrying out some sort of ritual. The rape counselor said the woman explained that the man had bragged they would murder someone on Christmas Day.
19 Dec 2002 8 Phone calls between Scott and Amber
8 calls between Amber and Scott, an unusually high number.
Amber discovered that her friend Dave Gardanelli had lied to her about his wife being dead.
A friend of mine for 3 years. I'm going to make a long story short. Had married this girl that had a twin sister. uh. I ran into him. This is when I was 18. I'm 27 now, so it's been a long time. But I had seen him off and on and I had run into this guy Dave Gardanelli, that had married my friend, Kelly, that I had worked with at Thrifty at the time that I was pregnant with Iyana. And him and I have been friends ever since. Well then, I had seen him at the bar. And I said, where is Kelly. And he goes, oh, you didn't hear? He goes, she had a heart, you know, she had a heart condition. And I go, yes. And he said, well, she passed away last February. And I went, you know, it took me, like, you're kidding me. She's only 30. On Thursday, December 19th I was at the gas station. A long story short, I run into Kelly, thinking it was Shelly, her twin sister. And she said, well, I still do nails. I walked out to my car and I went, no. I went back and I said, hey, Shelly, you step outside with me. And she said, yeah. I said, okay, wait, your sister did nails, right? And she goes no, I did. That's right you called me Shelly. No, I'm Kelly. I'm Kelly. What, I'm sitting in front, unbelievably. I was, like, he told me you were dead, right?
And she says, no, he raped -- Dave Gardanelli, he raped and beat me when we were married. I've been hiding from him for three years.
19 Dec 2002 Sharon talked to Laci on the phone
Sharon talked to Laci again after she returned from Carmel.
20 Dec 2002 Scott, Eric, and Rob went to Stockton
Eric and Rob, a new employee hired in mid-November, met in Fresno and then drove to Modesto to the warehouse to pick up Scott. They arrived at the warehouse shortly after 7:00 am. Eric and Rob went into the office, but not into the shop, so they did not see the boat. They had a meeting with a distributor in Stockton, which is a little over 30 miles to the northwest of Modesto.
20 Dec 2002 Renee Tomlinson talked to Laci
Renee spoke with Laci on the 20th, and Laci complained about being tired and uncomfortable. Laci also told Renee that she was not engaging in sex and that sex was not a high priority in the pregnancy.
20 Dec 2002 Scott saw Amber
Some reported that Amber said she last saw Scott on December 20. That is when he told her he was going to spend Christmas in Maine with his family. However, Brocchini testified that Amber said in her phone call to the tip line on Dec 30 that the overnight on Dec 14/15 was the last night he spent with her, and Amber herself testified that it was November 20, their first date, when Scott first told her he was going to Maine for Christmas.
20 Dec 2002 Scott purchased fishing equipment & 2-day license
3:49 pm Scott purchased the 2-day fishing license and some lures on Dec. 20 at a Big 5 Store in Modesto. That Big 5 store is located in the same shopping center as Trader Joe's, 3250 Dale Road, and is just down the sidewalk. The license clearly states Dec. 23 as the date issued. The line under the Date Issued reads: "Date issued" must be entered before issuing license. Also, the line under Dates Valid reads: "Dates valid" must be entered before issuing license. The license was No. 001004-03. The Store Manager testified that the sales clerk was a seasonal employee and filled out the Date Issued incorrectly.
These items were in Scott's pick-up on the night of the 24th. The lures were later seized from the warehouse and boat during the search on December 27, and Scott gave Detective Brocchini the license on December 26. Scott also had other 2-day fishing licenses from previous trips and a 1-year license, which he turned over to MPD on the 26th. Scott also had an older fishing tackle box, filled with lures, that the Defense has entered as evidence.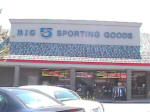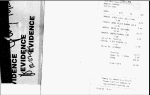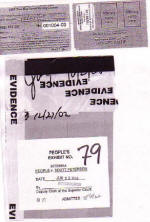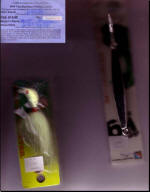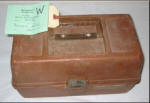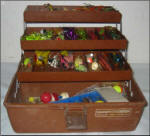 20 Dec 2002 Scott made a cement anchor
In his OS, Distaso said Scott made his one cement anchor around this time (the 20th), and that Scott said he made only one, from a 90-lb. bag of cement. Eric Olsen testified that he saw a partial bag of cement at the warehouse at the end of November or beginning of December, before Scott had purchased the boat.
In his direct examination of Det. Hendee, D. Harris presented as evidence the picture of Brocchini placing the boat anchor into the plastic pitcher and concluded it was a perfect fit. He also showed various pictures of the trailer with placards marking where Hendee said he saw distinctive circular void spots where it appeared other anchors were made using the pitcher. On cross examination, Geragos demonstrated that the boat anchor did not make a perfect fit in the pitcher and was noticeably missing a dimple on its bottom to match the dimple in the inside bottom of the pitcher. He also questioned whether Hendee saw the circles because they were really there or because he already believed Scott made 5 anchors, not just 1. Geragos also showed pictures of the various projects in the yard Scott had recently completed, including using cement to anchor fence posts and as mortar for some brick work.
Robert C. O'Neil, a Geologist and Petrographer, testified that Det. Grogan sent him the anchor and pitcher to determine if the pitcher was the mold for the anchor sometime in January 2004. On visual examination alone, O'Neil was able to tell that the anchor was not made in the pitcher. Grogan then remembered that Scott told him he had purchased a plastic paint bucket at Home Depot that heused to make the anchor. Grogan purchased one himself, sent it to O'Neil, and it matched perfectly with the anchor.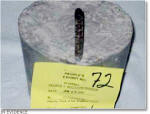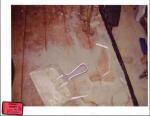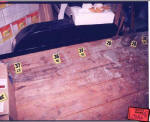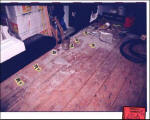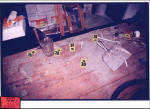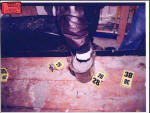 20 Dec 2002 Laci knew about the boat
In his OS, Geragos said witnesses will testify that Laci was at the warehouse on Dec 20 and saw the boat and was in the boat. She needed to use the restroom, and since the one at the warehouse was blocked with fertilizer products, she went to the business next door. Through the course of Brocchini's testimony, it was revealed that Detective Holmes interviewed Peggy O'Donnell on Dec. 30 as part of a canvas of the other businesses in the same complex as the Trade Corps warehouse. Peggy said on either the 20th or 23rd in the late afternoon, Laci asked to use her bathroom. Peggy had never seen the boat. In Grogan's testimony, he said the date was narrowed down to the 20th because it was Peggy's employee's last day at work.
Geragos noted in his OS that Laci didn't tell either Ron or Sharon about the boat, but neither did she tell them about a large furniture purchase earlier in the month, and they planned to tell Ron about the boat at the Christmas morning brunch.
20 Dec 2002 Sharon talked to Laci on the phone
Laci told Sharon about her doctor's appointment coming up on the 23rd and her upcoming baby shower.
21 Dec 2002 Amber called Fresno Detective Richard Byrd
On the night of the 21st, Amber placed a 58 minute call to Fresno Detective Richard Byrd's home. Amber attended a Christmas Eve party with Byrd.
22 Dec 2002 Amber called Scott twice
The next two calls Amber made, after talking with Byrd on the night of the 21st, were to Scott the next morning.
22 Dec 2002 Scott's call to Amber
Scott made a call to Amber from a 916 number, saying he was at the Oakland airport waiting to board a flight to Kennebunkport, Maine to join his family. Amber wanted to talk to him again, so she called the Oakland airport.
In the Jan 7, 2003 taped phone call, Amber said that Scott called from Sacramento to say he was leaving to go to Maine, and that he had just returned from New Mexico and had just packed his bags to prepare for the Maine trip. (People's 195T, p 7)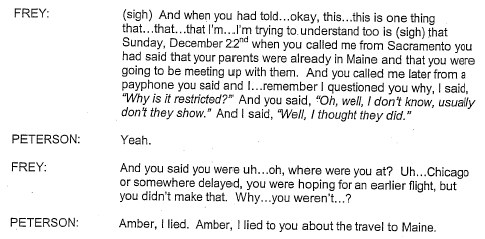 22 Dec 2002 Scott helped Karen Servas with her Christmas Tree
Karen Servas testified that she interacted with Scott and Laci on the 22nd, the Sunday before Laci's disappearance. They had finished mowing the lawn and were in the backyard transplanting some perennials when Servas went over. She said Scott was doing the work and Laci was watching or giving instructions on where she wanted the perennials to go. Laci told Servas that she had become dizzy and almost fell into pool a couple weeks earlier.